At Washburne Court on Sunday afternoon, two local Girl Scouts received the highest award in scouting.

Michelle Monson and Stephanie Louis worked for over a year on their Gold Award project.

The Gold Award has many requirements that each scout must meet. A scout must earn four interest project patches, earn the career exploration pin, and implement a Girl Scout Gold Award project among other requirements.

Monson and Louis decided to do a project together doing activities with the residents at Washburne Court. Louis said they thought it was a good idea because it had just changed from a nursing home to assisted living and didn't have an activities director yet.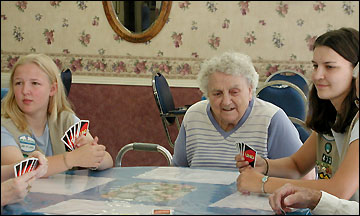 At Washburne Court, the duo would coordinate activities for the residents. According to the scouts, they played cards, baked, did crafts, planted flowers, and accompanied the residents on outings to places like Monsinger Gardens in St. Cloud.
Girl Scouts Michelle Monson and Stephanie Louis spent over 150 hours at Washburne Court doing activities with the residents to receive their Golf Award.
From January 2003 to February 2004, Monson and Louis went to Washburne Court twice each week.
To complete a project, a scout must have at least 50 hours of time invested into it. In February when Monson and Louis finished their project, they both had invested over 150 hours into their project.
While doing activities with the Washburne Court residents, the scouts got other community organizations involved. The Paynesville Lions Club, the Paynesville Community Club, and other Girl Scouts all helped them at one point or another during their work to achieve the Gold Award.
"It was a lot of hard work," Monson said, "but it was worth it."
At the ceremony on Sunday, some of the residents got up to say a few words, Louis said. They told the girls that they would miss them.
"It's hard to hear that," Monson said. "We'll miss them a lot, too," Louis added.
The best part of the project, the girls agreed, was seeing how happy the residents were when the came to play cards with them.
Monson, the daughter of Jeff and Betty Monson, and Louis, the daughter of Adrean and Jean Louis, will both be seniors at Paynesville Area High School this fall.
Monson and Louis have joined 15 other Paynesville Girl Scouts who have earned the Gold Award. Other Gold Award winners are: Mindy Meagher and Heidi Steinhofer in 2002; Jen Bruntlett, Courtney Fuchs, Rachel Koehn, Krista Kotschevar, Lisa Stanger, and Melissa Bachman in 2001; Kristin Freilinger, Sarah Lahr, Elizabeth McCarney, Molly Meagher, Lindsey Moser, and Jen Wendlandt in 1997; and Linnea Louis in 1993.
Betty Monson, Michelle's mother and their scout leader, said that she is very proud of the girls. She has been their scout leader since they started scouting in the first grade. The troop started a lot bigger, Betty said, but as time went on it got smaller as girls started losing interest. "These two went for the gold, and they got it," she said.
---
Contact the author at editor@paynesvillepress.com • Return to News Menu
Home | Marketplace | Community
---