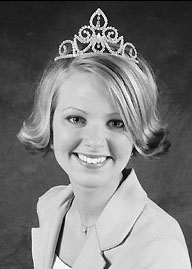 Katie Nelson may have yielded her Miss Paynesville crown in June at Town and Country Days, but she was just waiting to trade up. She was crowned with a bigger tiara on Friday night when she was picked as the Aquatennial Queen of the Lakes at the Ted Mann Concert Hall at the University of Minnesota.

Nelson, a 2004 PAHS graduate and the daughter of Dave and Diane Nelson of Paynesville, is the first Miss Paynesville to become the Aquatennial Queen of the Lakes. She was chosen from a field of 47 candidates, who competed last week at the Minneapolis Aquatennial.

As Aquatennial Queen of the Lakes, Nelson will represent the city and the state at hundreds of appearances over the next year.

Nelson told a welcome-home gathering on Sunday night that she was "treated like a queen all week." Over 100 local residents attended the welcome-home celebration at Paynesville Lutheran Church.

Standing on stage on Friday night, Nelson recalled thinking, "Maybe a princess," and started to console herself when her name wasn't called among the two princesses. "All of a sudden, they called my name, and it was total shock," she said.

Then she was whisked off stage, dressed in a new gown, and signed a contract for the next year before returning to the stage, where two rows of relatives and friends cheered for her.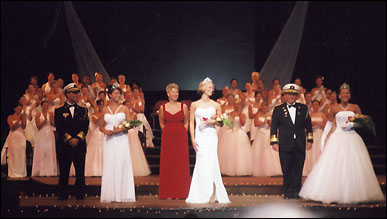 While Paynesville has ties to at least three Aquatennial royalty in the past, Nelson is believed to be the first Miss Paynesville to become Aquatennial Queen of the Lakes. Mary Margaret Schultz, who grew up in Paynesville before becoming Miss St. Cloud, was crowned Aquatennial Queen of the Lakes in 1963; Jarolyn Worner, who grew up in Paynesville before becoming Kaffe Fest Queen in Willmar, was an Aquatennial princess in 1969; and Diane Vagle, who grew up in Paynesville before becoming Miss Hutchinson, served as a princess in 1988-89.
Katie Nelson posed onstage with her princesses - Kintana Nelson of Blaine (left) and Jill Starke of Annandale (right) - after the coronation on Friday.
The Aquatennial Ambassador Program featured four official judging sessions last week, plus some serendipitous judging.
On Sunday night, after arriving at the hotel, the girls were asked to say something about their community, without knowing that the judges were present. Nelson said, "Paynesville is a small town with a big heart. It's full of caring people, helping people and what I like best is all the smiling faces."
On Monday, they had two-minute individual sessions with each of the five judges, asking about the five judging criteria: poise, character, pride in community, appearance, and speaking skills.
On Tuesday, they did individual interviews with the panel of five judges, asking about how they would manage their schedule if chosen and if they would be willing to accept the responsibility.
On Tuesday, they also had the Meet the Queen Candidates Program at the IDS Center Crystal Court. Nelson dressed as Ojibwe maid to honor the generations of Indians who lived or visited Minnesota, including visitors to beautiful Lake Koronis, and to honor her great-great-grandmother, who was Ojibwe.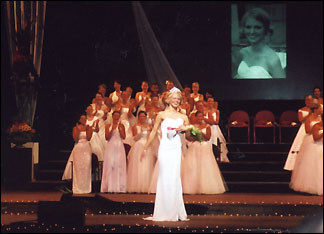 On Wednesday, they gave short speeches to the panel of judges.
Katie Nelson walked across the stage at the Ted Mann Concert Hall at the University of Minnesota, in front of the other 44 contestants, after being crowned the Aquatennial Queen of the Lakes on Friday night.
And on Thursday, wearing their evening gowns, they gave another speech and picked a grab-bag question. Nelson's was: If you could have dinner with anyone, who would you want and why? She chose her seventh grade friend, whom she would like to catch up with after moving.
Nelson wasn't sure how she'd done during the week, wondering "Did they really get to know me?"
"I was myself the whole time, so I was pretty comfortable," she added, but she thought she had blown one of her speeches.
On Friday, all the candidates were supposed to pack their bags so the winners could be moved to new rooms with new wardrobes. "I didn't pack everything because I didn't think I'd win," admitted Nelson.
Nelson, 19, called the opportunity to travel and represent her hometown, Minneapolis, and her state as a once-in-a-lifetime opportunity. "I'm lucky I get to travel," she said. "I got my list (for the first three months), and I get to go as far as Japan and as close as St. Paul." Other travel destinations are California (for the Rose Bowl), Florida, and Texas.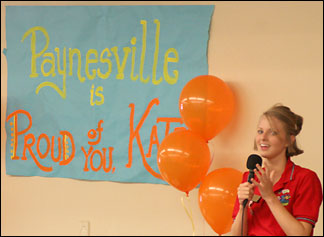 She is still learning the list of dos and don'ts when appearing as the Aquatennial Queen of the Lakes, such as, no opening doors, no carrying bags, and always having her official escort.
Katie Nelson - under a banner that read "Paynesville is proud of you, Katie!" - talked about her experiences at the welcome home on Sunday.
Nelson still plans to attend Gustavus Aldophus College in St. Peter this fall, majoring in child psychology. But representing the Aquatennial will now be a priority in her life, she added.
Nelson told the Japanese dignataries that she had never seen the ocean and now would get to cross it to visit Osaka and attend a parade with millions of viewers.
Her first parade will be close to home. She will appear in the Waterama Parade in Glenwood on Sunday, July 31, at 1 p.m.
"Everybody knows you'll...represent the community well in the next year," said Mayor Jeff Thompson at the welcome-home on Sunday.
Kay Spooner, representing the Paynesville Area Chamber of Commerce, one of Nelson's sponsors for the Aquatennial, said she predicted Nelson's crowning to an Aquatennial representative."This is your winner," Spooner told her. "She's going to do it. She's your winner."
Nelson's princesses are Jintana Nelson, the former Miss Blaine, and Jill Starke, the former Miss Annandale.
Being named Miss Paynesville and now Aquatennial Queen of the Lakes has given Nelson a special confidence, she said, in people recognizing who she has become as a young woman. She just wishes other girls would get to have the same experience, she added.
"Winning Miss Paynesville was enough. I was shocked with that," she said. "Winning this..." she started before ending, momentarily speechless.
---
Contact the author at editor@paynesvillepress.com • Return to News Menu
Home | Marketplace | Community
---