Annie is nine days away, unlike tomorrow, which is - as revealed in one of this popular musical's songs - "only a day away."

Performances of the community production begin on Friday, Aug. 5, at 7:30 p.m. in the high school auditorium. A matinee is scheduled for Sunday, Aug. 7, at 3 p.m., and other show times are Monday, Aug. 8, at 7:30 p.m.; Tuesday, Aug. 9, at 7:30 p.m.; and Wednesday, Aug. 10, at 7:30 p.m.

A 1970s Broadway show that won the 1977 NY Drama Critics Circle Best Musical, Annie is based on a comic strip from the 1920s. It was made into a Columbia Pictures movie in 1982, and inspired a Disney version in 1999.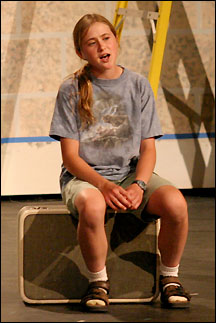 In the show, Annie - a bouncy, optimistic 11-year-old who was left on the steps of an orphanage in New York City - runs away in order to search for her parents. Though she is discovered and brought back to the cruel director of the orphanage, Annie is whisked off to the mansion of billionaire Oliver Warbucks.
Annie (Rheanne Zimmerman) stars in the musical bearing her name, which will be performed by 36 community members in August.
Warbucks, who is normally quite self-absorbed, surprises his servants by announcing plans to adopt Annie. When Annie announces her dream to find her real parents, Warbucks aids her in the quest, using his influence with President Franklin Delano Roosevelt. Along the way, Annie inspires Roosevelt's New Deal that lifts the Great Depression, saves the rest of the orphans, and discovers what a family is.
Over a dozen songs - including "Tomorrow," "Easy Street," "Maybe," "You're Never Fully Dressed Without a Smile," "You Won't be an Orphan for Long," and "Annie" - highlight the show.
The cast of 36 local residents includes Rheanne Zimmerman as Annie and Mike Noonan as Daddy Warbucks. Zimmerman, who hasn't been in choir since sixth grade because she had too many other classes she wanted to take, sings to her chickens to practice the music, she said. Playing the lead role has been interesting, she said, commenting, "I didn't realize how different the character would be from me."
Director Ian Pelton is "very able," according to Noonan, who added that he enjoys seeing the ten orphans work so hard. Though he has not been in a musical for a decade, he said that acting is "kinda like riding a bike...you just get back on."
With its catchy music - that the cast cannot get out of their heads, according to Pelton - the play is quite different than a bike ride in the park. There are "interesting, sort of dark aspects to Annie, even though it's about a cute little girl with red hair," said Pelton. The themes he refers to include the poverty of the depression and a merciless plot to kidnap Annie.
He added that audiences familiar with the spinoff movie may be surprised because some of the songs were replaced by different tunes when Annie went to the big screen.
Tickets for the five performances are $7 for adults and $5 for children 12 years of age and younger. General admission purchases may be made at the door or in advance at Bank of the West, Central Minnesota Federal Credit Union, Farmers and Merchants State Bank, Joel's Family Foods, and Paynesville SuperValu.
Seating in the lower section may be reserved by calling Colleen Pelton at 320-243-7221.
Show Times
In the school auditorium
Friday, Aug. 5, 7:30 p.m.
Sunday, Aug. 7, 3 p.m.
Monday, Aug. 8, 7:30 p.m.
Tuesday, Aug. 9, 7:30 p.m.
Wednesday, Aug. 10, 7:30 p.m.
Cast of Characters
Annie
Annie: Rheanne Zimmerman
Oliver (Daddy) Warbucks: Mike Noonan
Grace: Sharon Bergman
Drake: Lindsay Hull
Miss Hannigan: Sheila Merrill
Rooster: Ian Pelton
Lilly: Tami Stanger
Molly: Teirrah Syvertson
Pepper: Jackie Skoglund
Duffy: Abbie Swenson
July: Briquelle Bowden
Tessie: Natasha Meed
Kate: Allie Stanger
Orphans: Chelsea Grandstrand, Ashley Beavers, and Kylie Bergman
Roosevelt: John Merrill
Morganthau/Ward/Cop/Masked announcer: Jim Beckstrand
Perkins: Marcia McCarney
Hull: Dick Butler
Ickes/Eddie: Steve Swenson
Howe: Spencer Wander
Appleseller: McKenzie Quade
Dog catcher/Foley artist: Hayden Spaeth
Assistant dog catcher/Wacky/Kid: Andrew Swenson
Bert Healy: Dugan Flanders
Fred McCracken: Mike Putzke
Ronnie: Karla Lietzman
Bonnie/Usherette: Emily Mehr
Connie/Mrs. Pugh: Lindsey Pelton
Star-to-be: Kaitlin Burlingame
Sophie: Beverly Beavers
Mrs. Greer: Caitlin Lien
Hooverville extra: Alyssa Tish
Judge Brandeis: Todd Burlingame
Chauffer: Bob Fore
Sandy (dog): Gordan
Men: Flanders, Merrill, and Putzke
Women: Lietzman, McCarney, and Mehr
Servants: Beverly Beavers, Kaitlin Burlingame, Spaeth, Quade, and Tish
Director: Ian Pelton
Musical director: Charlene Strand
Accompanists: Amy Syvertson and Cindy Zimmerman
Stage manager: Sami Tierney
Assistant stage manager: Courtney Colbert
Technical directors: Ian Pelton and Mike Putzke
Costumes/publicity: Colleen Pelton
Set design: Ian Pelton and Molly Zimmerman
Dog handlers: Bob and Kay Fore
---
Contact the author at editor@paynesvillepress.com • Return to News Menu
Home | Marketplace | Community
---