As a John Deere dealer for 31 years, Harlan Beek knows what a difference paint color can make. When he first viewed the welded grid work for his custom-made dock, he noticed that it had been painted blue. "When you're in the farm equipment business," Beek said, "everything is identified with color. Ford is blue."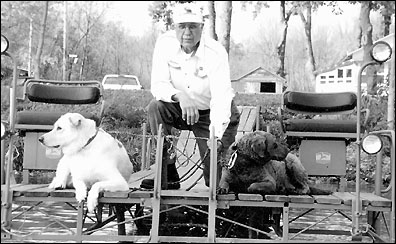 John Deere lovers may just be green with envy as they troll by the north shore of Lake Koronis for a view of Beek's dock, which he assembled using salvaged parts of vintage John Deere combines and tractors. The deck, measuring 44' long by five feet wide, has been repainted John Deere green by Beek and has generated stories in two farm magazines.
Harlan Beek, a retired John Deere dealer, assembled his custom-made dock entirely from salvaged John Deere parts. Painted Deere green, the dock includes six vintage John Deere decals and working headlights. Beek's lake-home dock is located on Lake Koronis, north of the Koronis Assembly grounds.
At its end, mounted to a 10' long platform, two seats from 1950 Model A and Model B tractors with six vintage John Deere decals allow for leisure and fishing. "People that know tractors," said Beek, "particularly the people who have farmed in this area, will recognize those seats right away."
Beek said that one day, passersby climbed out of their boat to take a closer look at his unique dock.
A ladder leading into the water and railguards on the dock were originally on a Model 55 John Deere combine, as well as four headlights, which are suitable for use with a 12-volt battery - mounted under each of the two tractor seats.
The roll-in dock is equipped with wheels and frame from a Model 1280 John Deere corn planter. Even the boat cushions on the dock's sides originated from baler belts.
To remain anchored and stabilized in the water, Beek attached vintage John Deere disc blades to the bottom of the leg posts.
He also created lakeshore lounge chairs with three seats from 1954 John Deere 60 two-cylinder tractors, bolted to a wood frame atop 11 concrete blocks.
Beek was a John Deere dealer in Paynesville from 1968 to 1999. He and his wife, Mary, still live in town and stay at their lake home near the Koronis Assembly Grounds during the summer.
According to Beek, the project started because he and Mary wanted a dock at the lake, and one with seats. He found the tractor seats and the theme gained momentum.
Beek said he grew up around tractors and remembers a fascination beginning at childhood. Today, his four grandchildren enjoy visits to the lake to fish coupled with that sense of riding on a tractor. "Farm machinery is that way," Beek said.
---
Contact the author at editor@paynesvillepress.com • Return to News Menu
Home | Marketplace | Community
---