"Let's go stop some traffic!" was the "battle cry" Captain Nick Koch used when traveling in official attire with 2006 Aquatennial Queen of the Lakes Katie Nelson and her two princesses. With their beautiful gowns, ready smiles, and perfect poise, they turned heads even as the spotlight turned on the new ambassadors crowned on Friday night.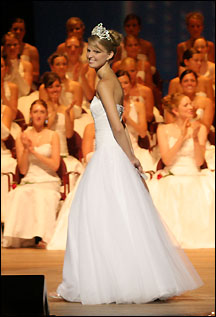 Katie, the 2004 Miss Paynesville and the daughter of Dave and Diane Nelson of Paynesville, became the first Miss Paynesville crowned as the Aquatennial Queen of the Lakes last July. On Friday night, she did her final walk, gave her last speech, and passed on her tiara to the former Miss Robbinsdale, Jessica Gaulke, who will represent Minneapolis and the state of Minnesota over the coming year.
Katie Nelson of Paynesville - the 2004 Miss Paynesville - completed her year as the 2006 Minneapolis Aquatennial Queen of the Lakes last week, when new ambassadors for the city and state were crowned.
She did all this on the same stage as her sister Kayla Nelson - Paynesville's 2005 First Princess - who was among 49 contestants in this year's coronation. Kayla, like all the contestants, spent nearly a week participating in multiple judging sessions and events for this year's Minneapolis festival.
Over the past year, Katie made hundreds of official appearances around the state, nation, and world, escorted by Commodore Ted Zweig. Princesses Jintana Nelson, the former Miss Blaine, and Jill Starke, the former Miss Annandale and their official escorts, Koch and Captain Tim Rose, also attended many of the events, which began for Katie with 25 appearances last August alone and ended with about 60 this summer.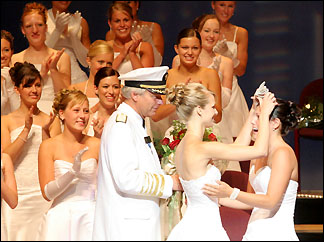 During official appearances, she could not open her own car door, carry a bag, or be without an escort, and her commodore always introduced her and gave a conclusion after her speeches.
Katie Nelson crowned the 2007 Minneapolis Aquatennial Queen of the Lakes - the former Miss Robbinsdale, Jessica Gaulke - on Friday night, while her sister Kayla, one of 49 participants in the coronation, watched. As the 2006 queen, Katie represented Minneapolis and the state over the past year.
Her appearances occurred in a variety of places. As Queen of the Lakes, Katie spent a week in Osaka, Japan, her first trip overseas. She was one of only three American representatives at the festival there, where her official appearances included a 12-course traditional Japanese meal and a three-hour parade with over a million attendees.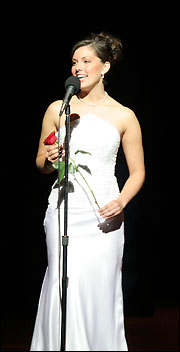 While in Texas, Katie wore water slippers to a "show your shoes" event, in recognition of her role as the Aquatennial Queen of the Lakes. She also went to LaCrosse, Wis., Macon, Ga., and Winnipeg, Manitoba, as well as to all parts of Minnesota.
Kayla Nelson was among 49 participants in the 2007 Aquatennial Queen of the Lakes coronation, which included nearly a week of judging sessions and events.
In her final speech as queen, Katie shared that the best part of her reign was being able to "see and experience communities at their best," something that provides her with hope in this imperfect world.
That hope she shared with others, including a young girl watching a parade. The girl, who was deaf, signed the phrase "beautiful you" as Katie rode by, and she signed that same phrase back to the child.
Throughout the year, she reigned with "the poise and grace of a runway model and the intellect of a surgeon," according to Rose. Plus, she balanced the busy schedule with her first year at Gustavus Adolphus College in St. Peter, where she was allowed to use an extra closet in the basement of her dorm for her gowns and other royal clothes. Katie received a $3,000 scholarship to continue her education for her service as Queen of the Lakes.
The busy year started as a surprise to Katie, who admitted that she did not even pack her bags before last year's coronation, because she did not think that she would win and need to move to a new room.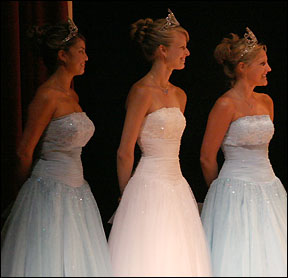 Though Katie was the first Miss Paynesville to become Aquatennial Queen of the Lakes, three women who grew up in Paynesville and moved away were also Aquatennial royalty. Mary Margaret Schultz, who grew up in Paynesville before becoming Miss St. Cloud, was Queen of the Lakes in 1963; Jarolyn Worner, who grew up in Paynesville before becoming Kaffe Fest Queen in Willmar, was a princess in 1969; and Diane Vagle, who grew up in Paynesville before becoming Miss Hutchinson, was crowned a princess in 1988.
Katie Nelson (shown at center) spent her last evening as Queen of the Lakes with the 2006 princesses, Jintana Nelson of Blaine (left) and Jill Starke of Annandale (right). The trio represented Minneapolis and Minnesota over the past year, appearing at hundreds of events.
The Minneapolis festival, which is organized by the Aquatennial Ambassador Organization and the Minneapolis Downtown Council, each year, officially ended Sunday, after ten days of events.
At many of those events, this year's candidates sang a song they wrote to the tune of "Friend Like Me" from Disney's Aladdin, which included these lyrics: "Oh, Mr. Commodore, who will your new queen be?...You ain't never had a queen like me." Gaulke, that new queen, will reign over the next year of events with Princesses Jenna Bernhardson, the former Miss Svenskarnas Dag, and Lindsey Saunders, the former Willmar Fest Queen of Festivals.
---
Contact the author at editor@paynesvillepress.com • Return to News Menu
Home | Marketplace | Community
---