Juvenile pelicans spend summer on Koronis
This article submitted by Linda Stelling and Michael Jacobson on 7/26/00.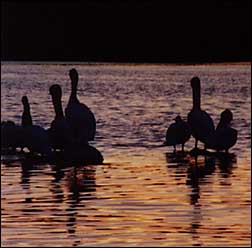 One look around Lake Koronis can tell you that the American White Pelican, once rare in these parts, seems to be doing fine on the lake again this summer.

A recent count of birds on the rocks on the north end of Second Island indicated at least 50 have been on the lake this year.

According to wildlife experts at the Department of Natural Resources (DNR) and at St. Cloud State University (SCSU), the pelicans on Koronis are juvenile birds.

Juvenile pelicans sit on the rocks off Second Island at sunset.

Pelicans hatch two young each spring. The female holds the eggs in her feet while cuddling them. Both the male and the female gather food and care for the young, but normally only one chick survives.

By the following year, the juvenile bird is on its own, but is not ready to mate for another year or two. It is these birds that wildlife experts believe are spending their summer on Lake Koronis. Bruce Gilbertson, of the DNR Fisheries Depart-ment in Spicer, Lisa Gelvin, a regional nongame specialist for the DNR, and Dr. Al Grewe, a biology professor at SCSU, agree that the birds on Lake Koronis are immature ones.

"They are everywhere in the state," Dr. Grewe said juvenile birds. "They are doing what teenagers do: hanging out."

The pelicans nest at Marsh Lake near Appleton as well as on the Lake of the Woods in northern Minnesota. The birds are social and form colonies. They prefer to nest on secluded islands where they are isolated and safe from predators.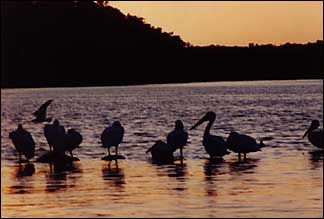 Though not a nesting site, the islands on Koronis meet that description. The juvenile birds favorite perch is on the rocks on the north end of Second Island, which forms part of a sand bar.
In September or October, the pelicans migrate to Florida and to the Gulf Coast of Texas, where there is open water during the winter months and lots of fish. Pelicans are a federally protected migratory bird.
They return to Minnesota each spring. According to Dr. Grewe, they arrive in Minnesota in mid-April and live on the rivers until the lakes open.
Dave Heitke, an avid local fisherman, recalls pelicans were present on the lake when he was growing up. The birds have reappeared on the lake in the past ten years.
Dr. Grewe has been studying and banding pelicans for the past 28 years. The birds have nested at Marsh Lake since 1968.
To help the U.S. Fish and Wildlife Service, he tracks the birds by marking them with bands. In the first year, he marked 10 pelicans. This year, with the help of a team, he marked 300 baby birds at Marsh Lake and 3,000 more in North Dakota.
He now tracks 2,000 pelicans in the state. Nationwide, the 1995 population of white pelicans was 400,000 (250,000 adults and 150,000 juveniles.)
A "rough" diet
Contrary to popular belief, pelicans eat mostly rough fish, not game fish.
Heitke called them the best bird on the lake as he estimated their diet is 95 percent bullheads. "They eat mostly bullheads," he said. "When the bullhead population is down, they move to another lake."
While the others did not put the percentage of bullheads as high, they agree that rough fish near the water surface comprise the majority of the pelicans' diet.
Gilbertson said they eat mainly bullheads and minnows. "Their feeding is restricted to shallow water as they are not a diving bird," he said.
Pelicans fish for their food communally, he added. They work together, placing their bills in the water to move the fish into a circle, making them easier to catch.
Estimates of the capacity of their bills range from 10 liters to 20 liters.
Dr. Grewe agreed that pelicans eat mostly rough fish. The undesirables, he said, like bullheads, minnows, crayfish, and salamanders. An adult pelican eats about one pound of fish per day, he said, though other estimates of their consumption are higher.
Pelicans are not a threat to game fish, according to Dr. Grewe. "Pelicans can't dive, so they eat only surface fish," he explained. "Anything that swims within two feet of the surface."
Mature pelicans can weigh up to 25 pounds, according to Dr. Grewe. At eight weeks of age, they usually weigh between 17 and 19 pounds. Their wingspan can exceed seven feet.
Brown pelicans, found on the Atlantic and Pacific coasts, were placed on the endangered species list in 1973 when it was found that pesticides had lowered their population by killing their food supply and causing the birds to lay eggs with shells too thin to last through incubation, according to the Grolier Encyclopedia. They are still an endangered species.
---