Orbeck studies, travels in England
This article submitted by Erin Aagesen on 7/26/00.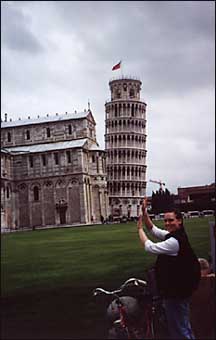 Nicole Orbeck, a student at the University of Minnesota-Duluth, spent the past year studying in Colchester, England, and traveling around Europe.

Orbeck will be a senior in the fall majoring in criminology and sociology. She decided to study abroad in England mainly because it was a European nation without a language barrier.

She studied at the University of Essex, taking courses in sociology. Two 11- week semesters were separated by month long breaks at both Christmas and Easter. The first semester started in October, and the second ended in June.

Orbeck pretends she is pushing up the Leaning Tower of Piza in Italy. Orbeck traveled around Europe during Easter break.

Orbeck says the difference between the courses she took at UMD and those she took at the University of Essex was amount of class time. In England, the professors spend less time lecturing and there are less tests than in U.S. classrooms. Instead, the courses require the students to find the information themselves through research outside of class. Half of the students' mark, or grade, is based on essays they write on their research. The other half comes from one final exam.

The grading system is also different in England. Each course is graded on a 70-point scale. Once a student graduates, the level of degree they receive is based on the cumulation of these points.

Orbeck was impressed by the quality of her professors. She said, "My professors were the people who wrote the books I used at UMD. It was a little intimidating at times, but they're just real people. They like it when you go in and talk to them."

From her experience, Orbeck will get full college credit and be on schedule to graduate next spring.

During the school year, Orbeck became involved in the university rugby team and had fun socializing.

"I met loads of people from different places," she said. "It makes you feel good because you go into a completely different place, make your own friends, your own life, and your own schedule."

During her Christmas break, Orbeck's parents visited her for two weeks. With them, she traveled to London and Paris for a day each and to Germany for a week. "It was just good to be seeing different places," said Orbeck.

Orbeck also went to Ireland over St. Patrick's Day. And her sister, Laurie, met up with her over Easter break. Together, they got a train pass and went through Europe.

They saw London, France, Germany, the Netherlands, and Italy. In Rome, they sat through a mass celebrated by the pope.

After classes ended in June, Orbeck went camping in northern England for a month before returning home. She also attended a summer ball which featured popular English bands.

Throughout her stay, Orbeck lived in a flat with 13 other people, an experience which gained her many friendships.
---