Kanten named to DFL Women's Hall of Fame
This article submitted by Linda Stelling on 7/26/00.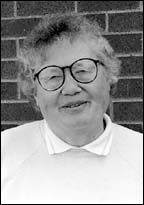 Because Anne Kanten has been fighting for farmers' rights for more than 25 years, she was among the first honorees named to the DFL Women's Hall of Fame earlier this month. Kanten, who moved to the Hawick area 10 years ago, was named a Woman of Distinction.

"Radical farm advocate has come full circle" read the headline when Kanten was appointed by Governor Rudy Perpich to become assistant agriculture commissioner in January 1983.

A farmer from Milan at that time, Kanten started fighting for farmers in the 1970s. She made a number of trips to Washington, D.C. "Those were tough years," she recalled.

When Perpich asked her to be part of his administration, Kanten said she had a hard decision to make. "I had to decide whether I wanted to leave the farm and become part of the beaucratic government. It turned out to be a wonderful experience," she said.

A woman in a man's world, Kanten found the job challenging. She served six years in the Department of Agriculture. "I was green when it came to governmental laws. I had to learn the laws and regulations," she said.

She said it turned out to be great a opportunity to learn many different things, meet lots of people, and travel all over the country.

During the 1984 Iowa primary caucus, Kanten served as the moderator for the presidential debates.

After hearing about the award, Congressman David Minge said Kanten fights on behalf of America's farmers. As a farmer, as a leader in the Lutheran church, the DFL, and as a public official, Kanten has forced Minnesotans and America to focus on the injustices in our society, Minge added.

Senator Paul Wellstone also recog-nized her in the Congressional record.

The honorees were named in two categories: Women of Distinction and Rising Stars. The honorees come from diverse backgrounds, crossing racial, age, and ethnic lines. What they have in common is that all have been trailblazers for women, said Alana Christensen, Network of DFL Women.

"When you talk with women all over the world, you find there is no difference between them," Kanten said.
---