Challenging musical "Into the Woods" entertains crowd
This article submitted by Linda Stelling on 7/26/00.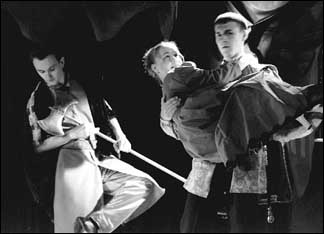 "Incredible," said Molly Zimmerman after seeing the first performance of "Into the Woods," by the Koronis Theatrical Company Thursday night at the Paynesville Area Elementary School.

A cast of 18 local actors and musicians performed the musical three times over the weekend. "Into the Woods," was written by Stephen Sondheim and features difficult musical numbers and lengthy pieces of dialogue.

Cinderella's prince (Scott Ingalsbe) carries one of Cinderella's stepsister (Sami Tierney) while the prince's stewart (Casey Kavanagh) checks his shoe for blood.

The plot had a baker and his wife searching for items so they could lift a spell and start a family. In their search, they met characters from Grimm's fairy tales like Cinderella, Jack from Jack and the Beanstalk, Rapunzel, a witch, and Little Red Riding Hood.

"The play was great," said Audrey Bugbee, who also saw the performance Thursday night. She appreciated the difficult music the cast had to learn.

According to Carol Dreyling, the local talent in the play was tremendous.

Delores Condon agreed that the play shows the community has a lot of talent. "It was great seeing the family combinations performing together," Condon said.

Cast member Becca Gardner, who played Cinderella, said the play required a lot of work and was very tiring. "We were still looking over our books, trying to remember our lines and words to the songs backstage during the play," Becca said. "I think opening night went pretty well even if I did flub some lines," she added.

Her brother, Ed, played Rapunzel's prince. "I think the play went wonderfully," he said. "I really enjoyed it, even though it was a lot of work," he added.

Charlene Strand felt the cast did an excellent job singing. "The duet between the two princes was hilarious," she said.

In that duet, called "Agony," Ed Gardner (Rapunzel's prince), and Scott Ingalsbe (Cinderella's prince) compared notes on their lives.

"Everybody had their idea on how the song was to be sung," Ed said. "Scott and I worked it out. We practiced separately and when we were able to get together, we made it work."

"The prince was a fun role. I got to be silly and do stupid things when everybody else was serious," Ed added.

Tryouts were held in January for the play. Rehearsals started in June, and they started walking through the play on stage on July 3.

Cast members were: Josh Ryan, Becca Gardner, Adam Ingalsbe, Susan Walther, Ian Pelton, Gretchen Vork, Paula Geier, Lauren Vork, Sami Tierney, Mackenzie Merrill, Erin Vork, Cheryl Colbert, Allison Thompson, Scott Ingalsbe, Ed Gardner, Casey Kavanagh, Courtney Colbert, and Stacy Wahl.

The play was under the direction of Antonia Kehr. Musical director was Ken Vork. Erin Kehr was technical director, in charge of makeup, stage design, and lighting. Megan Nyffeler was stage manager, and Gretchen Vork was in charge of costume construction. Meredyth Johnson was the choreographer. Mike Putzke and Jesse Neu were the light and sound board operators. Pianists were Cindy Zimmerman and Ken Vork.

The show was made possible by a $3,000 grant from the Central Minnesota Arts Board.
---