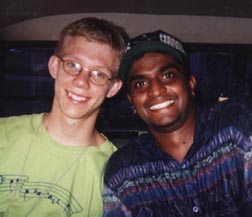 The summer is barely half done, and Andy Jones already has a lot of material for his what-did-you-do-last-summer essay.

Jones - who will be a senior at Paynesville Area High School this fall - toured southern India for 25 days on a mission trip with the Christian musical group On Call. The group - based out of Willmar - spent the majority of their time in the state of Tamil Nadu, on the southeastern tip of the Indian peninsula.

Andy Jones relaxes with an Indian guide during On Call's three-week trip to the southeastern tip of India.

A group of 21, including 19 youth, flew from Minneapolis to Chicago; Seoul, Korea; Singapore; and finally to Madras, the capital of the state of Tamil Nadu. Then they toured the state, performing concerts in at least five cities.

They performed concerts, lasting from an hour to 90 minutes each, at schools and for the public. "The people that we sang to were always so willing to hear us sing," explained Jones. "People were really attracted to what we were doing. There were always large crowds."

At the Christian schools, up to 60 percent of the kids were actually Hindu. During the 25-day trip, the group performed around 35 concerts, most of the time doing two per day. "It would be great to do it again," Jones said. "To spread the gospel and see the seed planted in people's hearts and souls is just amazing."

The trip was Jones' first overseas experience, and it came in a country that is vastly different than central Minnesota. The hot weather, red soils, dry terrain, and mountains were unlike Minnesota, as was the native language (Tamil), the number of people, and the poverty. "In some parts of the cities, there are nice houses and very well off people," said Jones. "In other parts, it's just a slum and dirtier than you can imagine."

One of Jones' favorite things was bartering in the local shops. "That was fun. You knew you were being taken advantage of most of the time, but it was fun trying to get a decent price," he said.

The group landed in Madras, and immediately set out to surrounding cities - Tiruchchirappalli (which they called Tiruchy), Thanjavur, Coimbatore, and Salem - to perform Christian concerts featuring contemporary songs and skits. Jones played the trumpet on two songs, sang on the rest, and participated in the skits.

Memories can remember one thing that went wrong more clearly than the numerous times it went right. During an introductory skit to one song, Jones and another young man pretend to be 'deep' philosophers, using their deepest voices. At one concert, Jones' voice cracked, causing him and the audience to laugh and Jones' skit partner to suffer such hysterics that he could barely continue.

In Coimbatore, Jones taught a young fan how to play his trumpet. The girl had played before but didn't know very much. "She was at each of our three concerts in that city, so after each one I would go and teach her something else," he said.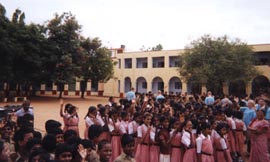 The group talked to the audience after each concert. Sometimes, especially with adults, a translator was needed. "The younger kids all spoke English, but it's not the same. It's the old British way, not American," he said.
The group performed more than a concert a day during their 25-day overseas mission trip, mainly at schools like this and for the general public.
The group also did some ministry while driving to their concert sites, waving to passers-by and fellow motorists. "If they waved back, we'd yell, 'I love Jesus,' " said Jones.
The cramped roads had motorized rickshaws, lots of motorbikes, and extra lanes of traffic. "To pass someone you don't use your blinker," explained Jones of the crazy traffic, "you use your horn."
The annual overseas mission trip for On Call was shortened from six weeks to three and a half weeks due to the retirement of former director Gary Condon. The trip cost $2,100 for travel, lodging, and meals, and the youth raised funds to make the trip more affordable.
The group stopped in Bangkok, Thailand, on their way home for some sightseeing and shopping.
Next year, the group could go to Africa, and Jones is interested in being in On Call and going overseas again. "It was a great experience. I hope I get to do it again," he said.
Andy, the son of Neal and Inez Jones, sings in the choir, plays in the band, and participates in cross country, basketball, and track and field at PAHS. He also has been selected to the All State Choir for next year and will be spending a week at camp for that in August.
---
Contact the author at paypress@lkdllink.net • Return to News Menu
Home | Marketplace | Community
---