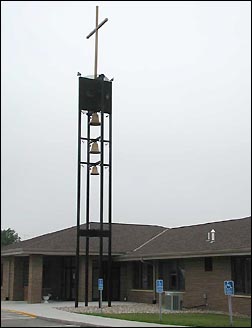 Paynesville Lutheran Church will open a preschool in the fall. Classes will start in September and end before Memorial Day in May, 2003.

The school is open to children ages three to five. Classes will be held Tuesdays and Thursdays from 8:30-11 a.m.

Karen Swenson, a member of Paynesville Lutheran Church, came up with the idea of having a preschool affiliated with the church. Swenson's oldest child attended a Christian preschool in St. Cloud and Swenson thought it was worthwhile. She talked about the idea with friends and discovered a preschool could be in demand in the Paynesville area.

She proposed the idea to Pastor Rick Hoyme three years ago, Swenson said, but the idea never got off the ground, until recently.

Swenson has been working on the preschool for two years. In May of this year, she helped form a committee to help her with the development of the preschool.

The congregation of Paynesville Lutheran Church officially approved the preschool on Sunday, July 7.

The curriculum for teaching the class comes from the Evangelical Lutheran Church of America (ELCA). According to Swenson, it is just an extension of Sunday school. The children will be taught "Bible stories you can apply to your life," said Swenson.

According to Elementary School Principal Todd Burlingame, the goal of preschool courses is to prepare a child for kindergarten. Preschool gives them the needed socialization skills so they are able to get along with other children.

Paynesville Area Schools had been looking into a possible preschool program as well, according to Burlingame. "There was a definite need for a preschool program in our community," he said. The school looked into joining forces with the Lutheran Church to start a preschool program, but the Lutheran Church put a preschool together without their help.

"We're hoping for 20 kids," said Ann Lemke, who has been helping Swenson with the development of the preschool.

The church hasn't hired a licensed teacher for the class yet. Few elementary teachers get certified for preschool. Most opt for K-6 licenses, but the committee has received several applications for the job and is in the process of deciding who to hire.

The preschool will cost $70 per month. The cost will go mostly to cover salaries, said Lemke.

The classes will be held in the Sunday school rooms of Paynesville Lutheran Church.
---
Contact the author at paypress@lkdllink.net • Return to News Menu
Home | Marketplace | Community
---