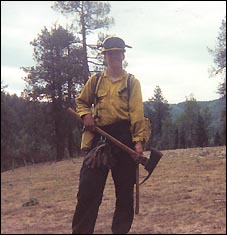 Over the course of two weeks, Eric Korman battled three separate wildfires in Colorado, each thousands of acres in size.

Korman, who now attends the University of Minnesota - Morris, after graduating from Paynesville Area High School in 2001, got involved with firefighting by taking a non-academic course on firefighting at his college. He then passed a physical examination in order to become red card certified, a designation required for fighting fires.

This summer he was hired by the U.S. Fish and Wildlife Services to do controlled burns in Minnesota and be ready for fighting wildfires, if necessary.

The worst draught ever recorded in Colorado caused the eruption of several large wildfires, and soon Korman was on the road.

He arrived upon a landscape that was charred and smoking for as far as the eye could see. He saw a reservoir lake the size of Lake Koronis that was completely dried up.

Korman worked as part of a fire crew that was comprised of firefighters from all over the United States. The crew's task was to prevent new blazes from flaring up in areas that the fire had already passed over.

At 5:30 a.m. the crew would awake in their tents to the ever-present smell of smoke. After strapping on a 25-pound pack, they would hike for a couple hours to the site in elevations of up to 10,000 feet. They would then "mop" the area by putting out all the hot spots, and they would "dig line" by making a two-foot-wide path in order to prevent the spread of any more fires that might break out.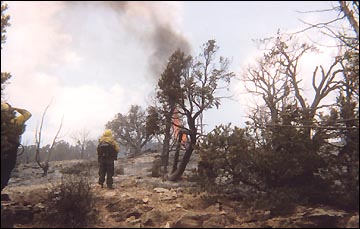 The crew also cut down trees whose roots had been burned. Hot coals in the roots sometimes started the rest of the tree on fire. With no roots to support it, the burning tree would then fall on others and cause a chain reaction.
Firefighter Alan Wyatt, whose death has been widely publicized in the national news, was killed while performing this same work on the same site that Korman's crew was at.
After hiking back, the crew had typically put in 14 hours of firefighting. "You'd come back and have just enough time to eat, shower, sleep, and then head back out there the next day," said Korman.
Local residents appreciated all the work of the firefighters. "The people treated all the firefighters like they were heroes," said Korman. Townpeople hugged firefighters covered in ash from head to toe, and storeowners gave the firefighters anything they wanted at no charge, said Korman.
The fires, however, are very expensive to fight. According to Korman, over ten million dollars per day was spent on the effort.
Wildfires have become increasingly threatening to people due to increased settlements in the forest. Natural fuel that is ordinarily burned off by regular forest fires instead builds up when natural forest fires are suppressed to protect settlements.
Combine that with the worst drought ever recorded in Colorado, and the result is the same as combining a match with an overflowing keg of dried up gunpowder.
The fires were explosive, spreading through the tree tops at an uncontainable rate, and raining hot coals from clouds of smoke in the sky up to a half mile ahead of itself. According to the Durango Herald, the fire's 250-foot flames and smoke could be seen from outer space
Dry firewood is about 20 percent moisture, and the trees in Colorado were only three to four percent moisture, said Korman. In the same way that an avalanche can start with a snowball, a fire can erupt from a single spark.
In certain areas the governer banned travel by automobile. "Just starting a car could start a fire," said Korman. Possession of fireworks was punishable with a $2,000 fine.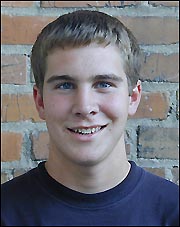 Korman worked at three fires in Colorado - Pinyon Ridge (3,800 acres), Bear Fire (4,500 acres) and Missionary Ridge (73,000 acres).
He was fascinated by the diversity of the firefighters and their backgrounds. He noted the unity that came from everyone working together on a common goal. "It was easy starting a conversation with anyone because you had all been through the same thing," he said.
Korman is signed up to head out west again. There is still demand, he said, and he will be called as soon as experienced firefighters become available to lead the clean-up groups.
"It was a good experience meeting people from all over the state and country," said Korman. "I'm ready to do it again."
Paynesville native Sam Ainsley has also been involved in firefighting for the past three years. This year he is a member of the fire crew at Chippewa National Forest. Over the summer he has fought forest fires in Colorado and near Grand Marais on the Fourth of July. He is currently fighting fires near Lakeview, Oregon.
When he's not fighting fires, Ainsley lives in Bemidji and works at the Chippewa National Forest Headquarters in Walker.
---
Contact the author at paypress@lkdllink.net • Return to News Menu
Home | Marketplace | Community
---