Flower bed of Andersons changes every year
This article submitted by Linda Stelling on 07/22/97.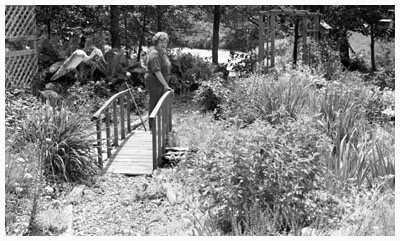 Dorothy Anderson of Paynesville and her back yard flower garden.
Little by little, Dorothy Anderson, rural Paynesville, has changed or altered her flower beds each year. ďI started little 10 to 12 years ago and over the years the flowers beds have grown,Ē Anderson admitted. One year she added a wood chip path through her flower bed, another year a wooden foot bridge was added and another year an arbor.
ďI keep thinking I should cut back, but then I see or hear about another flower that I donít have and I add more flowers instead,Ē she said.
The garden started out as a small rock garden but the perennial flowers have taken over and the rocks arenít as visible as they once were. ďI hauled in several wheelbarrow loads of rocks,Ē she said. The rocks are positioned on a small hillside.
In her back yard garden, Anderson has poppies, daisies, delphiniums, hostas, phlox, marigolds, bachelor buttons, holly hocks, and roses, to name a few.
Her garden includes 35 rose bushes, including hardy shrubs, five kinds of spirea, four apple trees, Queen Ann Lace, lilacs (purple, white, and Korean). At one time she also had a cherry, plum and pear tree, but they didnít do as well in the Minnesota climate.
Besides the flower garden behind her house, she has another off to the side which is totally perennials. The perennial flowers spread and once in a while she divides up the plants. Each spring and summer, her yard is full of colors ranging from purples, pinks, reds, yellows and blues.
ďI enjoy feeding the birds and the flowers draw the birds to the back yard,Ē Anderson said. ďEach day I see a different colored bird come to the feeders.Ē Anderson added this spring was too cold and her flowers werenít as pretty as they should or could have been.
A constant winner at the annual Grace United Methodist Church flower shows, Anderson has been exhibiting at the flower show for about 10 years. However, she doesnít think she will have time to put an arrangement together this year. ďA lot depends on what the flowers are doing and the types of rains we have,Ē she said. Anderson doesnít think her garden is as good this year because of the early dry spells.

---