Paynesville has history of ice cream making
This article submitted by Linda Stelling on 7/21/98.
July is national ice cream month and everybody loves ice cream, especially during the hot summer months.

The love of ice cream in the Paynesville area goes back a long way. In the 1930s, the North American Creamery purchased the Pioneer Ice Cream Company with plants at Alexandria, Fergus Falls, Glenwood, and Sauk Centre, according to records at the Paynesvlle Area Historical Society.

The Pioneer Ice Cream was sold under the name "De-Lish-O" out of Sauk Centre. A truck route would stop off at Paynesville and leave a supply of ice cream to be sold locally.

According to reports at the historical society from George Paetznick, the ice cream product out of the North and South Dakota plants was not uniform in quality and the management decided Paynesville should make all of the ice cream mix for the company and ship it by rail, to the various plants, (Alexandria, Fergus Falls, Glenwood, and Sauk Centre) to freeze. Sauk Centre would pick up theirs by truck.

John Bailey was moved to the Paynesville plant, to make the mix. This practice continued for a while. The vanilla was now uniform but the fruit and flavor ice creams were not, so it was decided to have all of the ice cream frozen in the Paynesville plant.

A 120-quart batch freezer was bought for Paynesville along with another ice machine and a sharp freezer. Trucks insulated with cork, which would hold 800 gallons of frozen ice cream, were also bought, according to Paetznick.

About this time, the company incorporated and their official name became "North American Creameries, Inc." A short time later, the name De-Lish-O was dropped and the product became the North American Ice Cream.

About 400 cream and produce buying stations supplied the bulk of farm products used by the creamery.
Ice cream maker O.N. Wahl, Milaca, brought his ice cream formula to Paynesville when he was hired to upgrade the quality of the ice cream.

Up to this time, bulk ice cream was packaged in metal cans only, but now paper cartons were coming into use in the area. Many customers objected, but for the manufacturer, there was no back-haul, and no washing of cans. However, for a number of years, both metal and paper cartons were used in both the 2.5 and five gallon sizes.

Mechanically cooled ice cream cabinets for the dealer were now getting to be common. But up until that time, ice and rock salt were the only means of holding ice cream in its frozen condition. Wooden tubs, holding a five-gallon can, with room for plenty of salt and ice, were used for celebrations and picnics.

Eskimo Pies made their appearance and the necessary equipment to make them was purchased. But this was a franchised item, and instead of paying the royalty, the management decided to make its own product, "Cold Shot." To make it a little different, butter brickle was used, while the Eskimo Pie consisted only of vanilla ice cream. Since bars had to be hand wrapped, it was only possible to make about 500 dozen per day. As soon as they were introduced, production had a hard time keeping up with sales, according to Paetznick's records.

When World War II came along, the conserving of butterfat, skim milk solids and sugar, forced a lowering of the federal standards of ice cream.

In the late 1940s, W.T. Noonan, owner of the plant, married Arvilla Nelson and it wasn't long after that he changed the name of North American Ice Cream to Arvilla Ice Cream, which proved not to be a good change, according to Paetznick's records.
The year after federal restrictions were lifted, 1946, the Paynesville ice cream plant made 964,000 gallons of ice cream and sherbet, and the Oakes plant (Oakes, N.D.), made all of the popsicles for the entire company.

In the early 1950s, the company had a number of setbacks and sold its North Dakota cream station and ice cream stores to Fairmont Foods of Moorhead. Eventually, more departments were closed and finally the making of ice cream was also turned over to Fairmont Foods.

The plant was then sold to the Ahlstrom brothers who used the drying equipment and churned butter. Noonan told his employees the North American Creameries would lease the ice cream operations and retain ownership of its ice cream business and equipment.

In the early 1960s, Ahlstroms sold the entire operation to AMPI.

Ice Cream Days
In 1948, the Paynesville Civic and Commerce Association, to express their thanks to the people who patronized Paynesville merchants, started "Ice Cream Days."

Arvilla ice cream cups were given out to area residents and during later years that practice changed to ice cream on a stick. In 1982 the free ice cream was discontinued in favor of selling malted milks at a low price. With the closing of the North American Creamery and the end of ice cream manufacturing in Paynesville in 1954, the annual celebration underwent a name change. In 1961, the Ice Cream Days celebration became known as Town and Country Days.

Wally Thyen remembers hitchhiking to town as a young boy for the free ice cream during Ice Cream Days.

Employees reminisce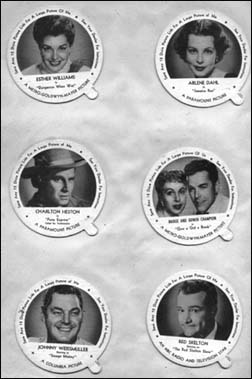 Gilbert Tritabaugh, Paynesville, worked from 1945 to 1954 at the North American Creameries.
"We made all flavors of ice cream. White House was the most popular as it had everything in it," Tritabaugh said. "I trucked 5,500 gallons of ice cream three times a week to various outlets. We received a lot of free samples working at the plant, no wonder we never lost any weight," he added.
Tritabaugh said making ice cream was quite a process. They had to heat the mixture to 160 degrees, hold it for 20 minutes before cool down. They would then run it across cooling coils and place it in large vats. Buck Nehring and Ray Wegner would take the vats to the freezing units where the flavoring was added. The sharp freezer where the finished ice cream product was stored maintained a constant temperature of 32 degrees below zero.
Cyrilla Hageman, Paynesville, rotated jobs at the North American Creamery. When she wasn't working in the ice cream department, she was testing milk.
"It was my job to open the pint boxes, then pass them unto the next person," she recalls. "There were four girls on the line. We made a lot of good ice cream," she added.
She also recalls breaking eggs open for drying. "We had to smell the eggs to make sure they were okay."
Edrie Miller, Paynesville, said she packaged ice cream. "It was hard at first until a person got used to the routine. One person opened the cartons, another filled it with ice cream, a third person closed the carton, and a fourth person put the carton away," she said. "If you didn't move fast enough, you had too much ice cream in the carton."
Andy Schroeder, Richmond, worked at the plant from 1946 to 1950. He recalls they made six to eight different flavors of ice cream. "The favorite flavors were vanilla and chocolate," he said.
Schroeder estimated they made between 3,000 to 5,000 gallons per day. A lot of the ice cream was shipped to Fargo.
When he started working at the North American Creameries, he made 65 cents an hour and when he quit, his salary was 95 cents an hour.
Clara Nelson, Paynesville, said she worked at the North American nine and one-half years. "I worked wherever I was needed," she said. She started working at the plant in 1945.
Nelson recalls the various flavors made in Paynesville included: vanilla, white house, chocolate, strawberry revel, neapolitan, butter brickle, and maple nut.
"We tasted every flavor and I don't think I gained any extra weight from it," she added.
Carolyn Swyter's dad, Ray Wegner, worked at the creamery for many years and she recalls when they had pictures of movie stars on the dixie cup ice cream covers in the early 1950s. If a person saved 12 of the same star, they would receive an 8 by 10 glossy picture of the movie star. Pictured are a few of the dixie cup covers from her collection.
• • •
Joel Burr, Joel's Jack and Jill, estimates they sell between 300 and 400 pails (five quarts) of vanilla ice cream a week.
Wally Thyen, Wally's G&T, said they sell about 500 five-quart pails when ice cream is advertised. Otherwise sales average about 100 pails a week.
Thyen said they sell between 100 and 200 half-gallon cartons of ice cream a week.
Bob Westvig, Dairy Queen, said their dairy product comes in a different form. It takes eight gallons of whole milk to make one gallon of Dairy Queen mix. In a week, the Dairy Queen goes through about 445 gallons of dairy queen mix.
Westvig estimated by the end of the month it will take about 10,800 gallons of milk to get the product needed to make the mix used at the Paynesville Dairy Queen.
---