PAHCS has four students learning rural medicine
This article submitted by Linda Stelling on 7/21/98.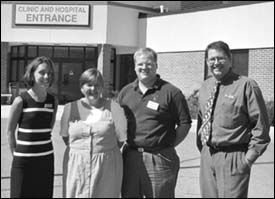 Four medical students are working and learning about medicine in a rural community at the Paynesville Area Health Care System.

The four students are part of the National Health Service Corps Summer Interdisciplinary Program through the Rural Health School at the University of Minnesota-Duluth School of Medicine.

The students are part of a six-week program which started July 7. They are Debora Nugent, second year family nurse practitioner student at the University of Minnesota-Twin Cities; Todd Lemke, fourth year pharmacy student from University of Minnesota-Twin Cities; Rochelle Wolf, second year medical student from Duluth; and Gene Beavers, medical student from Augsburg College.

Laura Odell is their site coordinator in Paynesville. She said Paynesville is only one of two sites taking part in the program this summer. The other site is Hibbing. ďWe are lucky to have the program here,Ē Odell added.

The program has the students shadowing professionals from different areas of the medical profession. Once a week they hold a skills session to learn the different skills from rehabilitation, oncology, pharmacy, nurse practitioner, and more.

Each student is assigned to work and shadow a professional. Wolf is working with Dr. Bob Gardner, Nugent is assigned to nurse practitioner Shari Heitke; Lemke works with hospital pharmacist Laura Odell; and Beavers is working with Dr. Allan Solum.

Of the four, Lemke and Beavers come from rural communities.

ďOur main goal is to get students aware of rural health issues. Through the interdisciplinary program, they can learn the strengths of each area of medicine,Ē Odell said.

As part of the program, they are to do a community education project. They have selected skin cancer awareness as their project. They will have a booth at Crazy Day on Thursday, July 30, and will be handing out free samples of sun screen. They will also plan on being in the Roscoe Fun Day parade handing out samples and visiting area beaches.

Wolf majored in genetics and biology and did research in cardiovascular diseases before entering medicine. She was a certified EMT and also worked in an emergency room and liked the patient contact. ďI found medicine was something I wanted to do,Ē Wolf added.

Nugent began a nursing career in 1982 and has had a variety of experiences in the hospital setting and through public health care. ďI value and respect the roll of nurse practitioner and decided I wanted to expand my field,Ē she added.

Lemke also holds a degree in genetics and has worked in a research lab on diabetes and viruses. ďI became interested in the people aspect and found by entering pharmacy work, I was able to combine my work and provide a service to people,Ē he added.


Beavers is serving an internship at the Paynesville Area Hospital and has his bachelor degree is psychology from Northwestern College in Roseville. He has also worked in patient mental health. He found he wanted to do family practice.

Lemke said his goal is to work in a small rural clinic where he can work on education and still do his diabetes and drug monitoring of patients.

Nugent hopes to work in a primary care setting in an area lacking in health professionals once her schooling is completed.

ďAfter working with Dr. Gardner in Eden Valley twice a week, and experi-encing the warmth of the patients, Iím strongly leaning toward rural health,Ē Wolf said. Wolf said there are so many areas in need of medical doctors but her inclination is toward rural health care.

ďI find the clinic patients and area residents very receptive to us when we meet them. The people are genuinely polite and warm and donít seem to care that we are there to learn,Ē Wolf and Nugent said.
---