Olson files for county commissioner
This article submitted by Linda Stelling on 7/21/98.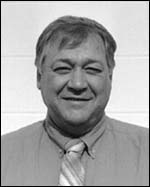 Johnnie Olson, Paynesville, has filed his candidacy for District 5 Stearns County Commissioner seat.

Olson, 57, was born and raised in Stearns County. ďI have sold my business and feel I have the time and the interest in serving as county commissioner,Ē Olson said. ďI have a good repoire with many state legislators and the county staff. I have worked with the city of Paynesville and Paynesville Township on many joint projects. I would provide new leadership and a strong voice for District 5,Ē he added.

Olson has served as a Paynesville Township officer more than 10 years and is presently the board chairman. He is also vice president of the Stearns County Township Officers Association which represents 36 townships. Olson has served as a director for District 5 of the Minnesota Association of Townships, representing Kandiyohi, Meeker, Pope, Renville and Stearns counties. He was elected by his peers as association treasurer.

Each year Olson heads up Lobby Day at the Capitol in St. Paul for Stearns County township officers in February.

Olson is currently serving on a joint committee of the Association of Minnesota Counties, the League of Minnesota Cities and the Minnesota Association of Townships.

He has attended the Washington, D.C. conference of the Minnesota Association of Townships three years, meeting with the Minnesota political delegation on each trip.

He is also a member of the Paynesville Solid Waste Commission and serves on a citizenís advisory committee for the long-range Stearns County Compre-hensive Plan.

Past positions held by Olson include EDAP Joint Powers Board of the city of Paynesville and Paynesville Township, the Tri-County Solid Waste Citizen Committee, Stearns County Solid Waste Advisory Committee and he served on the church council at Crystal Hills Assembly.

Olson and his wife, Pat, have been married 35 years. They have three married children and four grandchildren. Olson was in the trucking business and had a repair shop for over 30 years. He presently owns and lives on a farm outside of Paynesville.

Olson said after trucking all over the country, he still feels Paynesville and Stearns County is the best area to live. Olson lists as his interests hunting, fishing and camping.
---