Local GM dealers feeling little effect from tsrike
This article submitted by Linda Stelling on 7/21/98.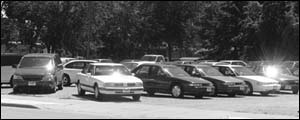 Paynesville area car dealers have not experienced any major effects from the month-long General Motors (GM) strike.

Lane Laubach of Laubach Chevrolet and Buick on Highway 55 said they are starting to feel the effects but not drastically. ďI think the strike is affecting the bigger dealers more than the small town dealers,Ē Laubach said.

ďWe have enough inventory for a couple more weeks. However, it is starting to affect our used car inventory,Ē Laubach added. ďThe bigger dealers are going to the car auctions and buying the good used cars. In ordering new cars, people are going to have to be patient and wait. All new cars are on hold,Ē he said.

Dick Johnson of Vern Johnson Motors, Highway 23, said he hasnít felt any impact at this point. However, down the road, that may be another story.

ďAt present, we have an adequate inventory. If we donít have the correct vehicle for an individual, Iíll call around to other dealers and weíll trade. The system allows us a wide range of opportunities. It is a win-win situation for all involved,Ē Johnson said.

ďMy used inventory selection is very good as I stocked up prior to the strike. If a person wants a new car, the time period to receive the car is unknown if I canít find it at another dealer,Ē Johnson said.

Dan Wall at Yarmon Ford and Mercury, west Highway 23, said they havenít felt any affects from the strike. ďWe have our own parts depots and are getting our supplies when needed. Because of the strike, we are selling more cars than before,Ē he added.

As of last week, General Motors had lost $1.2 billion due to the strike at the two parts plants in Flint, Mich., according to the Associated Press articles.

The strikes have shut down 25 assembly plants and more than 100 parts plants across North America and has idled about 175,000 workers. Analysts estimate that the strikes are costing GM about $80 million a day in lost production.

The United Auto Workers has accused GM of a strategy of sending U.S. jobs to Mexico and overseas and has acknowledged the Flint strikes have national implications. But it maintains they are primarily over local plant grievances involving health and safety violations, work-rule disputes and subcontracting issues.
---