Local youth find 'Call to Service' an eye-opening experience
This article submitted by Linda Stelling on 7/21/99.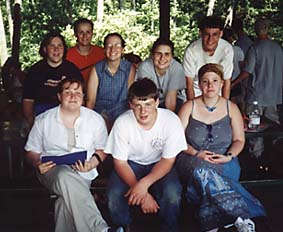 Seven Paynesville area youth spent a week working in the inner city of Minneapolis and St. Paul through the Call to Service program of the St. Cloud Diocese.

A total of 55 youth from the St. Cloud Diocese spent June 20 to 25 working in the soup kitchens and helping with summer school programs, at daycares, and at a Native American school.

Laurie Rausch, St. Louis Catholic Church Youth Director, took the Paynesville youth to St. Thomas Apostle Church near Lake Harriet, where they stayed while working in Call to Service.

Attending from Paynesville were: (front L to R) Hannah Philabaum, Jake Nyffeler, and Sarah Ryan; (back) Angie Meyer, Jessica Heinen, Rausch, Megan Nyffeler, and Jesse Neu.

"Everybody had an experience that affected them," Rausch said. This is the fifth year for the program and only the second year Paynesville youth have taken part.

"Our first night there, a homeless man talked to us about his search for an apartment. He has faced racial discrimination in his search as there is a lack of low income housing," Rausch said.

"I think it was great for the kids to see how others live. Many had miscon-ceptions about the homeless which were laid aside," Rausch added. "The homeless were great people to get to know."

Rausch said it was a moving experience to see people waiting in line for the doors to open at Sharing and Caring Hands. "When they opened the doors to the clothing area, people ran and grabbed to get clothes," she said.

At the Sharing and Caring Hands, the youth helped pull clothes from big bins and stacked them on tables. Hannah Philabaum, Roscoe, said it was a sad experience to see so many people homeless and in need of clothes. "We have so much which we take for granted," she said.

"The little kids got to me the most. I started crying when a little girl was so happy because she got a coloring book. The book was half colored already, but she didn't care. She had a coloring book she could call her own," Philabaum said.

Philabaum said they had 10 work sites to select from. She worked at four different sites: Sharing and Caring Hands, Four Winds School, Pillsbury House, and the Institute of Education Advocacy.

"I helped first graders with their math at Four Winds, a school for Native Americans. At the Institute of Education Advocacy, we learned about the Hmong customs and worked with their elderly," Philabaum said.

Philabaum was surprised to see people staying from meal to meal. "Most of the homeless would come at 9 a.m. for breakfast and stay until lunch and dinner," Philabaum said.

What scared Philabaum the most about the trip was hearing gunshots on Chicago Avenue.

Rausch said that at Sharing and Caring Hands a person would pass through a metal detector upon entering the building. "On the first day, my keys set off the alarm," Rausch said. She added that there were also security guards located throughout the building.

"Safety was a major concern of the trip," Rausch added. "We were essentially the only white people in the room at the food kitchen."

"The homeless were great people to get to know. They were happy and had good attitudes, despite the fact they were homeless and didn't know where their next meal would come from or where they would spend the night," Rausch said.

Rausch said the Call to Service program instills a desire to serve others and makes the youth more aware of the needs of others. The program is open to ninth through 12th graders. Youth are limited to two trips so others can learn from the experience. There is a waiting list of youth wanting to serve, Rausch added.

"It makes you think twice about some of the things we do. We often have food left over on our plates while others are going hungry. One night we had to turn people away with small children at the food line because we ran out of food. I felt guilty knowing we would be eating at McDonalds while others would be going hungry.

Jake Nyffeler said the trip was fun and he really enjoyed it. "It was great to get away from our sheltered lives here in Paynesville," he added.

He worked at four different sites: Dorothy Day Center, a soup kitchen; Grace House, an AIDs hospice where they mowed lawns and moved files; Sharing and Caring Hands; and Oak Park Neighborhood Daycare, where they helped with the children.

For Sarah Ryan, this was her second Call to Service trip. "This was a totally different experience than last year," Ryan said. "I loved working with the kids. They were the highlight of the trip for me."

Ryan met a two-year-old, Malik, who pretended to cook dinner for her at a daycare.

On this trip, Ryan worked with daycare kids at the Camden Neighbor-hood Center, tested first graders at the Four Winds School, delivered meals to an AIDs Hospice, and served meals at a soup kitchen, the Branch Three of Catholic Charities.

"A lot of the youth taking part in the Call to Service are from small towns. They learn about different religious cultures and it gives them a chance to get closer to God," Ryan said.

Ryan and the other youth who worked encourage others to sign up for Call to Service or a similar mission program. "The trips are an eyeopener and show another side of life in Minnesota," Philabaum said. "We have too much that we take for granted."
---