Burning leaves within the city limits is now illegal.

Last week, the city council approved a burning ban within the city of Paynesville. City residents used to be able to burn their leaves from mid-October to mid-November without a permit.

A burning ban was enacted by the city council because smoke from burning leaves is a nuisance and could be a health hazard to residents who are sensitive to smoke, especially people with asthma or allergies. Burning leaves on the street, which some residents did to avoid scorching their lawns, can also damage asphalt requiring expensive repairs, according to public works director Ron Mergen.

In addition, when leaves are burned on or near the street, the ashes can be washed into the storm sewers and eventually into the Crow River, where nutrients from the ashes make their way into Rice Lake and Lake Koronis.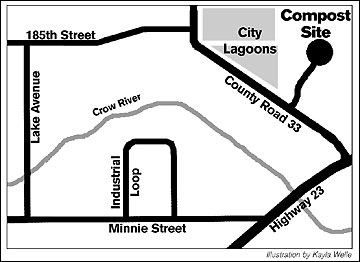 Before approving the ban, the city held a public hearing in June, which produced no opposition to the proposal. In addition, the city's environmental committee had recommended the ban.
The Paynesville City Council passed a leaf burning ban within the city limits last week. Residents used to be able to burn leaves in the fall. Now they will need to bring them to the city compost site on Co. Rd. 33.
With burning leaves no longer an option for city residents, homeowners are encouraged by the city to compost their leaves. The city's compost site, located two miles northeast of Paynesville on Co. Rd. 33 near the city sewer ponds, provides a place for city residents – as well as residents of Paynesville Township – to dispose of yard waste.
During the summer, the compost site is open from 6 to 8 p.m. on Wednesday evenings and from 9 a.m. to 1 p.m. on Saturday mornings.
To make it easier to compost leaves in the fall, the city will extend the hours of the compost site on Saturdays during October and November. Now, the compost site will be open from 9 a.m. to 3 p.m. on Saturday mornings in the fall. (Its Wednesday hours are unchanged.)
Each fall, West Central Sanitation does a one-time curbside collection of bagged leaves within the city. According to Mergen, the city will schedule this pick-up for later in the season to insure that all leaves have fallen before the curbside collection.
The city will also consider adding another leaf pick-up in the fall.
Residents can also dispose of leaves in backyard compost piles or by mulching them back into their lawns where they can provide nutrients to the soil, noted Mergen.
---
Contact the author at editor@paynesvillepress.com • Return to News Menu
Home | Marketplace | Community
---