The Paynesville City Council approved the annexation of 230 acres - owned by Ferche Develop-ment, LLC - to the north side of the city last week.

Ferche Development, LLC, has purchased two parcels just to the north of the city: a 144-acre parcel west of Lake Avenue and south of 185th Street and a 86-acre parcel to the east of Lake Avenue and south of 185th Street.

They represent the largest annexation to the city since at least the 1970s. From 1985 to 2000, no properties were added to the city limits. Since then, residential annexations include Project 55 (15 acres), the WilGlo Acres Addition (38 acres), and the Ampe Morningside Addition (15 acres), as well as nearly 200 acres annexed at the new municipal airport.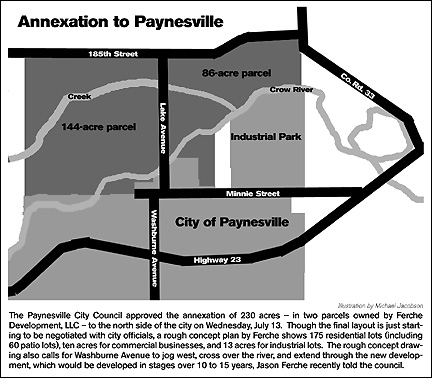 Plans for the development have not been finalized. A representative from Ferche Development is expected before the city's planning commission in August.
A rough concept plan for the 230 acres - given by Jason Ferche to the Paynesville City Council in June - calls for 116 residential lots, 60 patio lots, seven to ten acres for commercial businesses, three acres for apartments, 18 townhomes, and 13 acres for industrial businesses.
The rough concept plan also projects that Highway 23 will be rerouted to run past the properties (as called for by the far west and west bypasses). It proposes jogging Washburne Avenue to the west (around the credit union), building a new bridge for the city street, and extending it through the development to the new highway (with Lake Avenue turning to intersect Washburne Avenue north of the river).
This concept plan is subject to change. It does call for industrial lots to border the Industrial Park across the river, but also calls for other residential areas near the Industrial Park. The city council also rejected a proposed residential development on the other side of the Industrial Park last month.
Jason Ferche of Rice told the city council last month that they plan to complete this development in stages over the next 10 to 15 years.
The annexation agreement calls for the existing tax base to be returned to the township until the property is developed and city services (sewer and water) are in place. After city services are provided, the township would keep 90 percent of the original tax revenue for the property the next year, 70 percent the second year, 50 percent the third, 30 percent the fourth, and 10 percent the fifth year.
---
Contact the author at editor@paynesvillepress.com • Return to News Menu
Home | Marketplace | Community
---