Convertibles are plentiful in the home of Willie Scheel, as are mementoes from the over three decades he has spent with the Paynesville royalty. In fact, those items are often one and the same.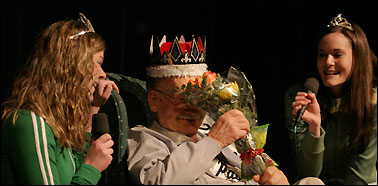 There are pictures and window hangings galore, as could be expected, but Scheel's mousepad even features him and royalty. He has been stockpiling memories of parades since he began driving the royalty in 1976.
Last year's Miss Paynesville, Lindsey Pelton (left), and Second Princess, Tanya Whitcomb (right), serenaded Willie Scheel with the song "My Guy" during the area talent show in April. This year, Scheel is driving the Paynesville royalty with his Cadillac convertible for the 31st summer.
That year, he finished major renovations on a pink 1960 Cadillac convertible. He was asked to drive the royalty in this novelty vehicle, and it went so well that he drove the next year. And the next. And the next. The 1976 Miss Paynesville and her princesses were only the first of the 93 Paynesville royalty he has driven over three decades.
He has owned six convertibles in his life, and three of his Cadillacs have carried royalty to area parades and coronations.
After the 1960 Cadillac, the next parade car Scheel drove was a 1959 Cadillac, also pink. Soon, though, there was a lavender 1958 Cadillac, the only one of the three which he still owns. "I'd always wanted a '59, but then I saw the '58 and decided I had to have that one," he laughed.
Scheel did a "bottom-up restoration" on all of them, fixing the paint, carpet, transmissions, and engines before proudly driving them in parades.
The cars got older and so did Scheel, but neither stopped spending summers with the girls chosen to represent Paynesville. Scheel will be 82 this fall and, when asked if he would continue to escort the royalty around central Minnesota, he said he "probably will until I can't no more."
When he agreed to drive that first year's royalty, Scheel had no idea how much time he would end up committing, but he only drives the queens and their princesses because he truly enjoys doing so.
He is not absent from many of the parades, either, even though now, in his 31st year driving, there are 22 parades, way more than the half dozen the royalty waved and smiled in when he began in 1976.
Though all of the royalty are special, Scheel will not forget being able to drive the first princess in 2001: his grand-niece Wendy Bennett. His convertible also featured Katie Nelson when she was queen in 2004, and in 2005, when she was crowned Aquatennial Queen of the Lakes, Scheel dressed up like a commodore to drive her sister, Kayla, a 2005 princess, in the Belgrade parade.
His contacts with some of the royalty have continued to the point where he has driven 10 or 12 from their wedding ceremonies to their receptions with his convertibles, and he has two more this summer.
There are some very notable former royalty, but Scheel remembers with detail most of all the girls he's driven. About 30 former royalty made it to a surprise party for Scheel last month, and they challenged him to identify them all by name, year, and royalty position. He said they assured him he got over half correct.
Those many royalty have numerous memories of Scheel and his convertibles, as well. In most parades, the car runs smoothly, the girls wave smoothly, and everything goes smoothly. However, there are problems sometimes, too. A couple of times the car has overheated, while other times the water pump went out or the generator quit, leaving the girls to either walk or choose not to finish the parade.
On the way back to Paynesville from one Melrose parade, when the humidity caused the car to overheat, one of the royalty even flagged down a pickup while wearing her dress.
Scheel's wife Gloria drove in her first and last parade at Town and Country Days in 2002. The car appeared to have a quarter of a tank of gas, which in a 21-gallon tank would have been plenty for Gloria to drive through the parade route in Paynesville. However, the needle had been stuck, and when she came over the railroad tracks, the needle plummeted and the car sputtered and died.
The good-natured royalty, never losing their smiles, pushed the car down the street to the amusement of the crowd. Gloria lines up each summer's parades now, but certainly does not plan on driving in any more, she said.
Gloria only comes to a couple of parades each year, making Willie joke that she lets him drive all the pretty young girls around unsupervised because she knows he's harmless. Still, she helps her husband and the royalty in another way.
The Scheels have traveled to Mardi Gras for the past four or five years, and Willie estimates that they bring back somewhere between $5,000 and $10,000 worth of beads for the royalty to throw in the parades. Once, they purchased the beads wholesale, and $600 of them did not last two parades, but this spring, they drove home 250 pounds of them, after going to parades down there and enlisting the help of people they met.
"We have fun getting 'em, and we have fun getting rid of 'em," said Scheel, who calls it recycling. It is dangerous work, though, which he realized after a bracelet of plastic high heels hit him on the head one year. No serious damage was done, because he did recover quickly enough to make sure they brought home the rest of the matching jewelry set.
He and his Cadillacs don't drive as far as New Orleans, but he did take royalty to Minneapolis for two years. With all of regular summer trips in and out of Paynesville for thirty years, it is appropriate that Scheel's first connection with Paynesville included regular drives here.
Scheel grew up in rural Rice, served as an instructor at the Naval Air Gunnery for just over two years, and first started coming to Paynesville when he owned a traveling roller rink company that came to Paynesville and set up in city hall on Thursday nights back in 1947.
Taking the suggestion of a friend, Scheel started a drive-in hamburger and root beer stand in 1948, and Scheel remembers bringing in $104 one Saturday selling 5¢ root beers and 25¢ hamburgers. He has also operated two different gas stations, cabins, a coffee shop, a drive-in with a carport, a steak house, a motel, apartments, and a Christmas tree businesses over his years in Paynesville.
Eventually, the Scheels bought the property near Fleet Supply that they named WilGlo Acres, and they currently reside there. Scheel is not letting excitement out of his life, though. He started skiing when he was 49 and has only skipped going to the mountains in Colorado a couple of the years since.
Even though he has aged over 30 years since he began driving Miss Paynesville and her princesses and he says that the royalty are "getting so young, they don't understand my jokes anymore," Scheel has a lot of life left in him.
---
Contact the author at editor@paynesvillepress.com • Return to News Menu
Home | Marketplace | Community
---