Would you live in a city called Mahpi and be required by law to have a tattoo? How about living in Mini, which is submerged under water? Kayla Loesch and Marissa Mackedanz recommend it, and they are grateful for the time that they spent in these "cities" while at Girls State Camp in June.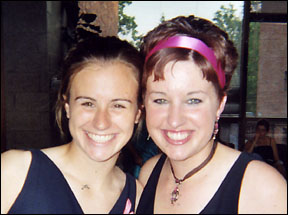 On Sunday, June 11, Loesch and Mackedanz - who will both be seniors at PAHS this fall - arrived at Bethel University in Arden Hills, Minn., with a week's worth of dress clothes and name tags designating their cities, counties, and political parties. On Saturday, June 17, after a week of learning about government, including electing and running mock governments on the city, county, and state levels, they left, grateful for what Mackedanz called the "experience of a lifetime."
Marissa Mackedanz and Kayla Loesch learned about local and state governments in a hands-on environment at Girls State, sponsored by the American Legion auxiliary and held at Bethel University in June.
Loesch remembers former agriculture teacher Bill Ryan telling here that the week at camp would teach her more about government than a year of class, and it certainly did, she said. Neither girl knew much about the intricacies of the government before attending Girls State, but they didn't need to, because they learned while living out the processes.
The girls primarily spent time with the other members of their cities, with whom they shared the wing of a dorm and participated in many activities. The 24 girls in each city had a junior counselor, who had attended Girls State last year, and a counselor, but one great thing about the camp was that, like the other organizers, they let the staters make their own decisions, never telling them whether things were right or wrong, Loesch and Mackedanz agreed.
Members of each city decided how big their city was and the type of economy it had. Loesch's city, Mahpi, was on a reservation and had a college and tourist economy, while Mini, where Mackedanz "lived," was a tourist town.
After the type of government was chosen, city elections were held, and both Loesch and Mackedanz were judges of elections in their respective cities. Mackedanz also served as a county delegate from her city. As judges of elections, they prepared polling locations, tallied votes, reported the results, and brought up the flags one day for an assembly of all the campers.
There were plenty of elections to keep them busy, too, because after the the city elections were held, county and state government leaders were voted in. For the state elections, the nearly 400 girls split into their parties - nationalist and federalist - and candidates campaigned in primary and general elections, using slogans such as "serving up justice" for a girl with the last name of Cook.
After witnessing a mock trial demonstration by real lawyers and judges, on Friday of their week at camp, the staters went to the capital in St. Paul, where city and county officials held mock trials in the courtrooms. The rest of the girls were in the House of Representatives, voting on potential laws prepared by some of the campers. They came together to sing in the rotunda at the capital, which was moving, according to Mackedanz.
Throughout the week, girls on each level of the government were fulfilling their duties as elected officials. Serious issues were discussed and dealt with, like a casino debate in Loesch's reservation town, and the girls had a lot of fun, too.
The girls in Loesch's town named themselves the Mahpi Mafia and required a tattoo for all residents, which Loesch drew with a permanent marker and had on her ankle for a week after the camp. Also in Mahpi, girls late to daily reflections had to ask someone from another city for toilet paper or a plunger.
Because "Mini" means "water," Mackedanz and the girls in the City of Mini decided that they lived underwater.
A talent show and an inauguration ceremony ball were other events during the week. Also, the girls - who had been prepared to spend the week in dress clothes - were surprised with a casual day.
The entire experience changed the way Loesch and Mackedanz look at the flag, they said, adding that there was more meaning behind it because of what they learned. Both are very grateful to the American Legion auxiliaries that sponsored them - Paynesville's sponsored Mackedanz, while Lake Henry's sponsored Loesch - for making the week possible. "There's no word big enough to describe what it was," said Loesch.
---
Contact the author at editor@paynesvillepress.com • Return to News Menu
Home | Marketplace | Community
---