Power companies upgrade substations
This article submitted by Linda Stelling on 7/19/00.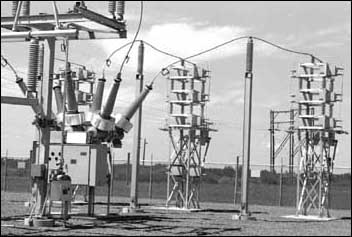 Because of growing demands for power, Northern States Power (NSP) and Meeker Electric recently upgraded their substations near Paynesville.

The Paynesville area has been growing consistently, said Kevin Louis, Meeker Electric operations manager.

Following a lot of coordination, Meeker Electric crews were able to install a new 5,000 kilovolt (KV) transformer at the substation without shutting off power to the area, Louis said. The new transformer replaced a 3,750 KV transformer. "We estimate the new transformer will adequately serve the future needs of the Paynesville area," Louis added.

During the switch, Meeker Electric crews de-energized the substation, shutting off the power so they could work. Power was supplied to area customers from other Meeker Electric substations during the transfer.

Meeker Electric's Paynesville substation is located just east of the five-mile bridge. It serves more than 400 customers living around Lake Koronis, Hawick, and Rice Lake.

New capacitor banks at NSP's substation north of Paynesville were put on line July 11 as an interim solution for the area. NSP crews have been working at the substation since January. The capacitor banks store energy for the area. They expect to be done with this phase by July 25.

According to Jay Chezik, NSP operations manager, the Paynesville area has been experiencing a sag in voltage during high demand periods, which causes the lights to flicker and dim at homes and businesses. The demand for air conditioners during recent hot weather was a good example of high usage.

Chezik said the new capacitor banks are only a short-term solution. Besides the capacitor banks, a new control house and new circuit breakers were also added to the substation. The old control house wasn't large enough to handle future upgrades. "The new capacitors will sustain the present energy demand," said Chezik.

A long-term solution will involve upgrading the line into Paynesville from St. Cloud and the lines leaving Paynesville to Willmar. At present there is a 115,000 KV line which runs from Paynesville to Willmar. By June 2003, NSP hopes to have that upgraded to a 230,000 KV line. "Everything is in the planning stages," Chezik said.

The NSP substation in Paynesville is a main power highway serving central Minnesota. According to Chezik, the line leading to Willmar is about 70 years old. The line upgrade project will include new conductors and poles. It will also double the size of the substation in Paynesville.

Among the areas served by the Paynesville substation are Richmond, Freeport, Belgrade, New London, Eden Valley, Regal, Roscoe, Lake Henry, Spring Hill and the north shore of Lake Koronis.
---