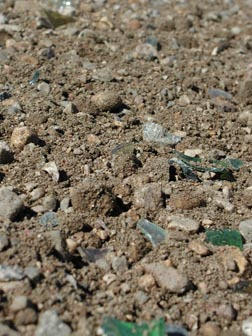 Waste operators have been looking for ways to dispose of glass economically.

At present, different colored glass has to be sorted before it can be recycled. A lot of commercial places, such as restaurants, find it costly and not very time effective to have an employee sort glass, thus a lot of glass ends up in garbage cans, which are taken to landfills and incinerators.

Large pieces of glass can be seen amid the crushed rock.

Thinking about the environment, more people are recyling at home, taking items out of the waste stream. However, there isn't a market for recyled glass like plastic and aluminum, said Williamson.

"The amount of nonreturnable glass bottles has doubled," said Williamson. "There is no incentive for restaurants to sort and recycle. It was the straw that broke the camels back. We needed to find a way to pick up glass that was less labor intensive," he added.

Williamson had contacted the Office of Environmental Assistance and they told him about a project where they were using glass in gravel for road beds near Duluth. A few days later Eugene Isakson, a former Sibley County eingeer, walked into West Central Sanitation's office trying to promote reclaiming glass.

"The timing couldn't have been better," Williamson said.

Taking their lead from Sibley County, Williamson approached Mel Jones, owner of Paynesville Excavating, if he would consider crushing glass with gravel to create an aggregate for base course gravel.

Jones was receptive to the idea and said he would give it a try. West Central haulers dropped off 15 yards (about two tons) on Friday, June 29, which is what they collect on their Stearns County route. "It was easier to haul the glass 15 miles instead of 250 miles to Shakopee," Williamson said.

West Central Sanitation collects about 14 ton of glass in Stearns County a month.

Glass has no value for resale as it costs more to dispose of the glass than what they receive, Williamson explained. The cost of recycling is built into the bills for homeowners and businesses. It averages about $5 a month, according to Don Williamson, owner of West Central Sanitation.

The only value in recycling glass is to save the environment. Glass doesn't break down and disintergrate like other products such as wood and cardboard.

Metro area recycling plants usually pay $35 a ton for brown and white glass and $15 a ton for green glass. This breaks down to about Williamson receives 1.75 cents for pound of glass he delivers to the plants. Another equivalent of a ton of glass equals about 4,000 beer bottles.

D&D Recycling of Paynesville charges five cents a pound for glass brought to their center.

That doesn't cover the cost of hauling it to the Twin Cities, said Williamson. Plus, the whole load can be rejected for one mistake in sorting the different kinds of glass. "We strongly believe in quality control," he added.

In using reclaimed glass, excavators could save money on purchasing clay for road base and counties can reduce the cost of road construction. as well as helping eliminate landfill costs.

Jones said some gravel pits run out of clay to mix with its gravel to get the right consistancy for roadbeds. He had heard about mixing glass with sand, but hadn't did it himself.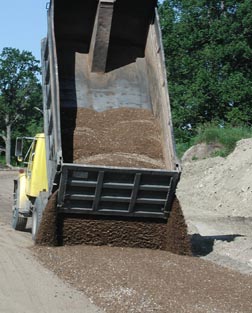 Instead of trucking in clay, some contractors have been using reclaimed glass which is considered Class seven aggregate. Before Class seven aggregate can be used on projects, MnDOT requires it be tested and certified. MnDOT has developed specifications to include reclaimed glass in aggregate.
A truckload of aggregate mixed with glass was used last week on Grand Street in the WilGlo Acres development.
Jones sent in a sample to be tested at Northern Technologies of Waite Park and it met all of MnDOT's requiements.
"Performance wise, there is no difference," said Art Bolland, MnDOT District 8 material engineer. "The use of reclaimed glass is up to the individual contractors."
Glass can be stockpiled for several years in preparation for the next scheduled road construction project.
The glass is sent through the rock crusher along with the rocks. This saves sorting the glass by colors and the finished product, after crushing, has varied sizes of glass. The edges aren't sharp, but reclaimed glass is only used on road beds or construction projects where it is covered over with pavement or concrete.
MnDOT gets a lot of requests to use different things in aggregate, Bolland said, everything from crushed granite to concrete blocks. Reclaimed glass won't break down or rot like some other materials.
MnDOT specifications ban the use of windshield glass from vehicles, light bulbs, and glass with known hazardous characterics.
More than 15 counties in the state use reclaimed glass in aggregate mixes for road or building projects, said a report from MnDOT.
According to Williamson, Stearns County is interested in exploring the idea of using reclaimed glass on road projects. On large projects, the glass would have to be stockpiled a year ahead to have enough to mix with the gravel.
"It's a win-win situation for all concerned," Williamson said. "After all, glass is made from sand."
Benefits of reclaimed glass
• No need to sort glass by color ╔making it easier to recycle and saving the waste collector's time, energy, and money.
• No need haul glass to recycling manufacturer (currently to the Twin Cities, a 250-mile round trip)...saving fuel and time and keeping recycling affordable.
• No need to haul glass to the landfill or incinerator...recycling reuses the material, in this case with a minimum of processing.
• No need to purchase clay to add to the gravel for class five aggregate╔ saving material for the road contractor.
---
Contact the author at paypress@lkdllink.net • Return to News Menu
Home | Marketplace | Community
---