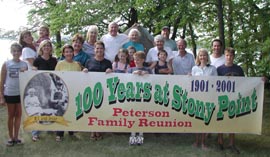 H.I. Peterson's dream is realized every summer on the shores of Lake Koronis when his descendants gather to swim, socialize, and relax.

After owning other property on the lake, Peterson – the founder and long-time publisher of the Litchfield Independent, which has since merged to become the Independent Review – and his wife, Jessie, bought acreage on the southern shore of Koronis in 1901 and established Stony Point Camp (more commonly known as Peterson's Point).

The Peterson family has owned a large parcel along the southern shore of Lake Koronis since 1901. Currently, the family owns 156 acres, including over a mile of shoreline. This weekend, over 50 family members from around the country and world will gather for a 100th reunion.

"I truly believe he had a vision of his family staying together because of this property," explained Peter Bustetter, a grandson of H.I. and Jessie Peterson, "and that's exactly what's happened. We probably wouldn't see each other except for this place."

"We wouldn't have known each other at all," said Marty Macon, a great-granddaughter of H.I. and Jessie Peterson who grew up in Texas, with little contact with her cousins except for summers on Lake Koronis. "(The lakeside camp) has kept us together."

The property is one of the oldest and possibly the largest on the lake. H.I. Peterson bought it in several parcels starting in 1901. Now his descendants, using a nonprofit family corporation, own 86 acres of land. One family member owns an adjoining parcel of 70 acres, meaning the family owns 156 acres in all. The county line between Meeker and Stearns runs through the property.

In all, the family owns a mile and a quarter of shoreline.

The family rents eight lots for cabins, which helps the corporation by paying about 80 percent of their yearly tax bill. The family currently has 12 cabins on the property.

The family prefers a rustic approach to their lake cabins, one largely lost elsewhere on the lake, where the trend has moved towards larger year-round homes. The original cabin built around 1901 has collapsed, but a cabin from 1906 and another from 1907 remain standing and remain in use every summer.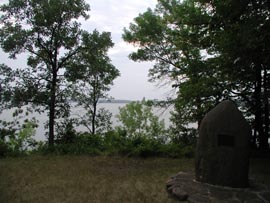 H.I. and Jessie Peterson had five children, of which four produced further descendants. Bustetter and his first cousins grew up spending their summers at the lake. The kids and their mothers were dropped off at Stony Point Camp the day after school got out and stayed until it was time to go back for school.
For many years, the family got its drinking water from springs by the lake (which were covered when the lake level rose after a new outlet dam was built in the 1930s, said Bustetter). The mothers baked, tended a large garden, and kept track of their kids. The family got eggs, milk, and cream from a neighboring farm and rarely went into town in the early days. "It was a tough life for the mothers because they had to do everything," said Bustetter.
The Stearns-Meeker county line runs through Stony Point Camp (more commonly known as Peterson's Point). H.I. Peterson put this stone in place around 100 years ago.
That rustic spirit has survived. "We still have outhouses. We still have a cottage without running water," said Bustetter. "We gave in reluctantly to television a few years ago," he added.
"We like it this way," said Io Halgren, who at 91 is the eldest grandchild of the Petersons. "The only thing is the family is growing, and we need more cottages."
The family has no plans to develop the area, apart from providing enough cabins for the growing number of descendants. A large garden - 50 yards by 75 yards - is still maintained on the property.
Other things have changed. Mainly the amount of time that people spend at Stony Point Camp.
When Bustetter grew up in the 1930s and 1940s, his mother and aunt would drive him, his brother, and two cousins to Minnesota for the summer. Their dads would drive out separately to spend their two-week vacation. "When we were younger, no one had money to do anything but come up here," said Bustetter.
Marty Macon, a fourth generation Peterson, grew up spending her summers on Koronis, too, in the 1950s and 1960s. Her family would drive up from Texas for the summer.
Some of her second cousins, though, only came for a few weeks. "Every summer, this is what we'd do," said Susan Parker, a fourth generation Peterson. "It was the vacation.
"If you could afford the gas to get here, you had a nice place to be," explained Macon.
Now, as people are busier and both mothers and fathers work, visits of a few weeks are becoming the norm. "As long as your vacation is. All of us work," said Macon. "Someday I hope to stay longer."
"This has just been our spot, our priority," she added. "Plus you have to check on your cottage from time to time. Once you grow up here, it's where you like to be."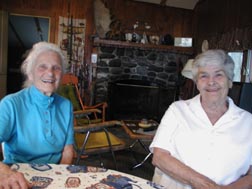 This week, H.I. and Jessie would be pleased to know that their family is congregating again at Stony Point Camp. In honor of the 100th anniversary of the property purchase, the family is holding a family reunion, starting on Thursday and running through Sunday.
Io Halgren and Hope Macon - both granddaughters of the original Petersons - enjoy coming to Koronis each summer. As kids, Io and Hope came to Stony Point Camp for the entire summer. The family prefers to keep the cabins fairly rustic, especially compared with the development elsewhere on the lake.
More than 50 family members from around the country and the world are expected. Family members will come from states around the country: Arizona, California, Georgia, Michigan, Pennsylvania, Virginia, and Texas to name a few. They will come from three continents: North America, obviously; South America, represented by a great-granddaughter who married a manufacturer from Santiago, Chile; and Europe, represented by a great-grandson who works as a journalist for Reuters in Frankfurt, Germany.
The relatives who live closest to Paynesville these days reside in St. Paul.
Normally, the relative's summer visits may or may not overlap, depending on their vacation schedule and priorities. Some relatives no longer can make it back to Stony Point Camp each summer. Over half of the Peterson descendants are expected back this week.
The reunion features planned dinners each night, games, relaxing by the lake, and even a "dress like your favorite relative" contest.
The biggest benefit will be to be back with your relatives, picking up a relationship where it left off the last time you were together, said Parker, a co-organizer of the reunion.
The commitment to family that the Peterson property on Lake Koronis fosters is not lost on the in-laws, who are accepted whole heartedly into the group, said Jamie Slone, who married into the Peterson family.
Jamie and his wife, Kimberly, a fourth generation Peterson, have two kids who prefer vacations by the lake to fancier destinations. Quoting a series of Visa commercials, he says, "A summer at Stony Point Camp is priceless."
"I think the more frequently you get here or the longer you come here, the more attached you get," said Jack Halgren, a fourth generation member of the Peterson family.
What the Peterson's Stony Point Camp has done is provided common ground for the family as it spreads. "We've always lived in different places all our lives. This is the only place that hasn't changed," said Bustetter.
"I always refer to this as my home," added Hope Macon, another granddaughter of the original Petersons.
---
Contact the author at paypress@lkdllink.net • Return to News Menu
Home | Marketplace | Community
---