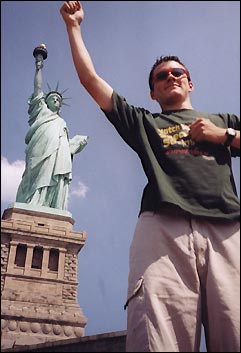 Ground Zero didn't live up to the hype for Adam Ingalsbe. He was a bit disappointed that the most covered news story of the past year appeared to be nothing more than a construction site without the 110-story buildings.

As part of an 11-day pilgrimage to the United Nations, Ingalsbe visited Ground Zero, where the Twin Towers of the World Trade Center stood before the terrorist attack on Sept. 11, 2001.

"It was hard to imagine all the chaos and destruction that had taken place there over a half a year ago," he said.

Ingalsbe's visit to Ground Zero was a new stop on the United Nations Pilgrimage, which took Ingalsbe to several eastern states from June 29 to July 9.

Ingalsbe, who will be a junior at PAHS in the fall, earned the trip by writing an essay and giving a speech about the United Nation's involvement in Afghanistan. Ingalsbe was then interviewed by a six-judge panel. The statewide contest was sponsored by the Order of Odd Fellows and Rebekah's Lodges.

Delegates for the pilgrimage were selected from all over the country. Ingalsbe was one of six delegates from Minnesota to attend the trip.

During the 11-day trip, Ingalsbe visited Philadelphia, New York City, Washington, D.C., Gettysburg, and Niagara Falls.

While in Philadelphia, the group visited the Liberty Bell and toured Independence Hall.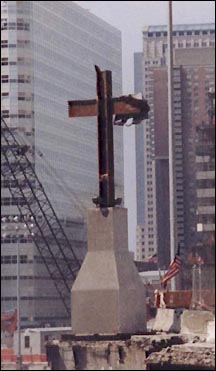 In New York City, the group met the rest of the delegates and spent two days at the United Nations, where they heard three speakers. The first specialized in women's issues, the second discussed the advantages and disadvantages of the United Nations, and the third talked about the problems between the Palestinians and the Israelis.
A cross was erected at Ground Zero in memory of those who lost their lives on Sept. 11.
In New York City, the group also went to the Statue of Liberty and Ellis Island, where immigrants arrived for many years in the early years of the United States. It has now been turned into a museum with computers for people to look up their family histories to see if any of their ancestors came through Ellis Island.
One of Ingalsbe's favorite parts of the trip was bartering with street vendors in New York for sunglasses.
Ingalsbe and the rest of the delegates then visited the Civil War battlefield at Gettysburg, a very interesting place to Ingalsbe. Throughout the countryside around Gettysburg, memorials for Civil War heroes dot the fields. It is possible to see bullet holes in some of the houses that were there at the time of the Civil War. "It gave me a new perspective on the archaic battle styles of the Civil War," he said.
The group then toured the famous sites of Washington, D.C., including the Lincoln, Jefferson, Roosevelt, Vietnam, and Korean memorials as well as the Smithsonian Museum.
"I liked the whole thing," said Ingalsbe. "I didn't have a particular favorite place."
---
Contact the author at paypress@lkdllink.net • Return to News Menu
Home | Marketplace | Community
---