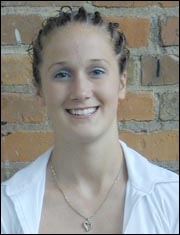 On Sunday, Melissa Bachman became the sixth Girl Scout from Paynesville this year to earn the Gold Award, the highest honor a Girl Scout can earn. She joined Jen Bruntlett, Courtney Fuchs, Rachel Koehn, Krista Kotschevar, and Lisa Stanger, who all received their awards in January.

The Gold Award has five requirements, all demanding efficient organization, time management, and leadership skills. The requirements are earning four interest project patches, earning the career exploration pin, earning the Senior Girl Scout Leadership Award, earning the Senior Girl Scout Challenge, and planning and implementing a Girl Scout Gold Award project.

Bachman, the daughter of Dale and Karen Bachman, works at the Koronis Manor and did her Gold Award project there. Bachman's project was called Girl Scouts Reaching out to the Elderly. She organized days for younger Girl Scouts to come to the nursing home and play games or design crafts with the elderly.

These activity days took place every Friday, from February to June, a total of more than 20 weeks.

A Gold Award project requires at least 50 hours of work. Bachman was required to keep a log detailing the time she spent on her project. When finished Bachman had done 70 hours of work on her project.

Two younger Girl Scouts would help Bachman every week. Twenty-five girls helped her throughout the five-month project.

According to Bachman, the hardest part of the project was coordinating the schedule of which girls would come on which days.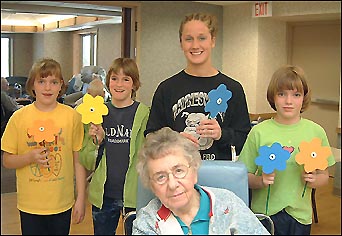 Bachman made weekly visits to the Koronis Manor, where she and younger Girl Scouts played games or designed crafts with the elderly. Pictured, from left to right with Marian Putzke are Kenzie Meagher, Danielle Liebl, Bachman, and Keely Meagher.
Bachman had to complete the first four requirements before she started her Gold Award project. For the interest project patches, Bachman earned them in these four categories: travel, the performing arts, on a high note, and photography.
To earn her career exploration pin, she did a project on television broadcasting.
The Senior Girl Scout Award is earned by putting in 30 hours of leadership. Bachman reached 30 hours by lectoring in church.
Bachman, a recent graduate of Paynesville Area High School, felt fortunate that most of the work required for her Gold Award overlapped with school projects. "A lot of the stuff I didn't have to re-do, because I'd already done it," she said.
She earned her career exploration pin during a school class on careers, which all high school freshmen are required to take. She completed the interest projects in the performing arts and on a high note in band, where she played the saxophone throughout high school.
Bachman's Gold Award project had to be approved twice. Once before she started it and again after she'd completed it. She had to be interviewed by the Gold Award committee, which interviews every Girl Scout attempting to receive the Gold Award.
The Paynesville Area Health Care System, which owns and operates the Koronis Manor, helped fund Bachman's project.
At Bachman's ceremony on Sunday, she showed a digital movie about her project, which she created on computer, using digital pictures and video footage. She was not required to do so, but she felt it would be easier for people to see what she did, rather than her explain it.
With Bachman, Paynesville Girl Scouts have had 13 Gold Award winners, including six in 2001, six in 1997 (Kristin Freilinger, Sarah Lahr, Elizabeth McCarney, Molly Meagher, Lindsey Moser, and Jen Wendlandt), and one in 1993 (Linnea Louis).
Two more Girl Scouts, Mindy Meagher and Heidi Steinhofer, will receive their Gold Awards in August.
---
Contact the author at paypress@lkdllink.net • Return to News Menu
Home | Marketplace | Community
---