Spanish students here to learn about American culture
This article submitted by Stephanie Everson on 07/15/97.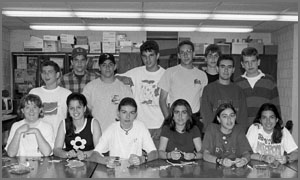 Thirteen high school students from Spain
are taking in American culture
for one month this summer.
Can you imagine American culture without peanut butter, sweet corn, or pumpkin pie? Thirteen Spanish high school students are seeing many common American customs for the first time. The students are staying with several families from the Paynesville area as part of a one-month American immersion program through the Pacific American Institute.
The students, who range in age from 13 to 17, qualified for the program partly because of their ability to speak English. Through their stays with host families and their American culture classes Monday through Friday at the Paynesville Area High School, the students are learning more about American language and culture.
Each Friday is designated as craft day. Through hunting for Easter eggs, making beaded Christmas tree ornaments, and other activities, the students are learning more about American culture with mementos they can take home to show their families in Spain. One of the crafts even had a history lesson in it. By dipping and making their own candles, the students learned how American pioneers once lived.
Rebecca Hoey, one of the instructors, commented that the students are very similar to typical American kids their age. They laugh and joke around, listen to much of the same music, watch many of the same movies, and enjoy playing similar sports.
There were a few things, though, that struck the students as strange about Americans. Misti Johnson, instructor, mentioned that one of the boys, who was staying with a farm family, came to class one morning somewhat perplexed, and asked, "What are barn clothes?"
American television habits were also something the students found somewhat odd. It seemed strange to some of them that their host families would turn on the television and walk away to do something else while it was still on.
Most of the students were from Madrid, although a few were from the north of Spain and a couple from islands in the south. Many of them were able to finance their trip through a company in Spain which paid for part of their trip.
Beatriz Rodriguez, from Madrid, told her family of her interest in traveling to the United States with the Pacific American Institute's language and culture program. They applied to the organization and she was accepted to go. One cultural difference Beatriz found interesting was that Americans wear their shoes in the house.
Carlos Beperez from Madrid commented that the American culture is all a little different than in Spain, especially with the language difference, but, "I am very, very fine with my family," he said, "because they are very good people."
Vicente Alvarez and Alvaro Ferrero, both of Madrid, noticed the different foods in America. Neither of them had ever eaten peanut butter or sweet corn, and the meal times took some getting used to as well. In Spain, dinner is served at 3 p.m. and supper at 9:30 p.m.
Through their daily culture classes, all the students had the chance to eat a traditional American Thanksgiving Day dinner. Although most of the students liked the turkey and potatoes, few of them took a liking to the pumpkin pie.
Javier Rochas and Marta Santos, both of Madrid, commented on American customary greetings and the traffic laws. In Spain, people are not allowed to drive until they are 18, but the speed limit is 90 miles per hour. Marta noticed that greetings here appear less familiar, as in Spain, a proper greeting is given with two kisses.
Javier Lopez and Tomas Diez, of Gijon and Santander in the north of Spain, commented that so many people here have blond hair; and although they have mosquitoes in Spain, they are much more abundant in Minnesota. They also found it interesting that Paynesville has so many religions within the Christian faith. In Spain, Catholic is the only religion.
Beatriz Gonzalez, the students escort from Spain, has been to the United States six times, and in Minnesota twice. She commented that the students are enjoying their family stays, and are thankful for the chance to learn more about American culture in Minnesota. The people they have met have made them feel comfortable and very much at home. "People here are smart and open," she said. "We feel just like home."
---