Washburne Court has come full circle. The red brick building on Washburne Avenue - just south of downtown Paynesville - was a board-and-care facility known as the Good Samaritan Care Center and operated by the Good Samaritan Society for over 50 years.

Board-and-care facilities were meant to take patients who were the most mobile, the most self-sufficient, the most independent. But - as the state became overloaded with nursing home beds in the 1980s, in part because seniors had more help to live at home and more choices to live when they left home - board-and-care facilities lost their niche.

Places like 700 Stearns Place - built by the Paynesville Area Health Care System in 1987 and offering independent apartment living for seniors - took that niche, and the Good Samaritan Care Center was forced to take patients with more needs and become a more skilled nursing home, said Jay Ophoven, the former director of nursing for the Good Samaritan Care Center.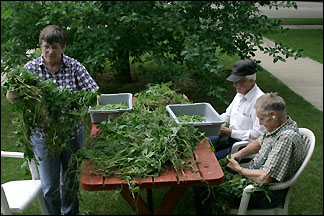 Ophoven has worked for the Good Samaritan Society since 1994, including since 1997 as the director of nursing at Hilltop Care Center in Watkins and since 1998 as the director of nursing at the Good Samaritan Care Center. Now he is a long-term care administrator for PAHCS, which bought both facilities a year ago.
That purchase was made with the idea that changes were needed. Instead of having two competing brands of nursing home care in the Paynesville community, what was needed was a continuum of care.
Arlene Winkels, Phil Reagan, and Bill Nelson pick fresh pea pods as an activity and also to help prepare one of their three daily meals.
Washburne Court became an assisted living facility at the start of 2003, filling somewhat the same niche as it had when it began. Before Washburne Court switched to assisted living, "there was a missing link" for seniors who had too many needs to live independently but still do not need a skilled nursing home, said Mari Louis, who has worked at the Good Samaritan Care Center, now called Washburne Court for 26 years.
Having more options for seniors means PAHCS can do a "better job to truly meet the needs of the people of the community," said Louis.
It's part of PAHCS's mission of Caring for Life to provide a continuum of care, added Ophoven.
PAHCS conducted a market survey on long-term care that showed a need for 27 assisted-living beds in a 30-mile radius of Paynesville and a surplus of more than 100 nursing home beds, said Ophoven.
The glut in nursing home beds in Minnesota started in the 1980s, as home health care started to keep seniors in their homes longer and other housing options for seniors developed. Still, even with all the apartments and other options for seniors, some fell through the cracks, said Ophoven.
Two critical needs, according to Ophoven, frequently were not met in independent senior housing: medication management and three meals per day. "That's the market that assisted living goes for," he said.
Lucille Hennen, 89, lived in Paynesville for 30 years, including eight in an apartment before moving into Washburne Court this spring. She got sick after Christmas last year and stayed with her daughter until she could move to Washburne Court. "I like it here," she said. "I don't have much time not to like it."
One of the concerns of Lucille's family was that she didn't eat enough when she lived by herself. And Lucille does enjoy the regular meals at Washburne Court, she said. "I think I eat more than I did when I was alone," she said.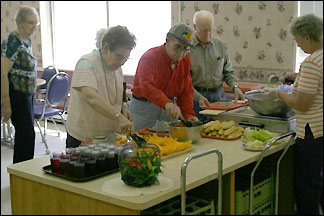 Doris Daby lived for a year at 700 Stearns Place, but she needed more care and three good meals a day. So she moved to the Good Samaritan Care Center and then qualified to stay in assisted living.
She said the people at both places are nice. "I wouldn't want to move anywhere else," she said.
Fran Brossard, Bud Brossard, and Bill Henderson Sr. go through the lunch line at the newly remodeled Washburne Court.
Washburne Court switched to assisted living in January 2003. It retained 12 residents who qualified for assisted living when the nursing home beds were decertified.
Residents are assessed on 32 areas - including mobility, dining, dressing, hygiene and grooming, bathing, toileting, sensory, housekeeping, laundry, medications, overall health, and social relationships - before entering to assisted living. They are reassessed as needed and may need more help in assisted living or may need to transfer to a more-skilled facility, said Louis.
These residents lived at Washburne Court during a half-million dollar remodeling project, which began in February and just finished. The $500,000 project - half paid by a $250,000 grant from the state - included adding kitchenettes (microwaves and refrigerators) and air conditioning to 18 double rooms, which became single studio apartments. It included turning single rooms into two-room suites by knocking a hole in the wall and combining the bathrooms, adding a kitchenette, air conditioning, and a shower in the bathroom. It included recarpeting and redecorating much of the building, adding a three-season porch to the front, creating a laundry room, and adding a family room with full kitchen. This room is really handy for visitors, said Louis, as they can prepare their own meal, say for a holiday or birthday, and talk while their meal cooks.
The remodeled facility features 24 units - 20 single-room studio apartments and four two-room suites - housing up to 28 residents. Basic rental is $770 per month for a studio apartment and $1,070 per month for a two-room suite.
Residents also must purchase the basic services - 24-hour supervision, socialization (activities), and three meals per day. This totals another $603 per month.
Additional services can be purchased as needed. For example, medication is roughly $100 per month for each daily administration. Laundry is $73 per month. Housekeeping is $133 per month. Shopping assistance is $16 per month. Bathing assistance (one bath a week) is $33 per month.
A nursing home is obligated to care for all the needs of its residents, but at a great cost. The minimum daily rate at the Koronis Manor is over $100 - or $3,000 per month - and the maximum daily rate is nearly $200 - or nearly $6,000 per month.
And financial assistance is more readily available for assisted living. Nursing home patients must pay themselves until they quality for medical assistance, needing to be almost broke to do so. For assisted living, though, the county has a half dozen programs that offer forms of assistance.
Decertification of 46 nursing home beds at the Good Samaritan Care Center meant PAHCS could raise its daily rates at Hilltop Care Center in Watkins by $4.03 per day, which means an additional $90,000 in revenue per year, said Ophoven.
Staffing at Washburne Court has been reduced by about 80 percent since the switch to assisted living. This really reduces the overhead. PAHCS is lucky in that nurses and nurse's assistants were willing to work as universal workers in assisted living, said Louis, giving Washburne Court a very experienced and qualified staff.
Universal workers are very versatile, Louis said, handling all the chores throughout the day, from fixing meals to transporting residents. Louis, as director of housing, oversees housing, staffing, and activities at Washburne Court.
Roxanne Knisely, who also heads home health care for PAHCS, is the director of health services at Washburne Court.
So far, Washburne Court has 16 residents, and three more should arrive soon. Four apartments are still open.
Louis said they are still developing volunteers and the complete activities program at Washburne Court, but residents already are going shopping and out to eat, cleaning fresh vegetables for their in-house meals, and even taking trips to casinos.
Tours of remodeled Washburne Court will be available during an open house from 5-8 p.m. on Wednesday, July 23.
---
Contact the author at editor@paynesvillepress.com • Return to News Menu
Home | Marketplace | Community
---