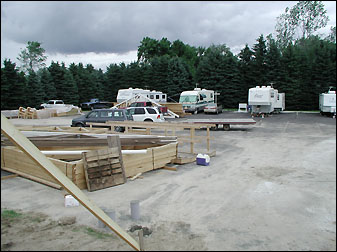 The blacktop lot looks more like a campground than a church parking lot right now.

Six campers crowd the parking lot at St. Paul's Lutheran Church in Eden Valley. They belong to a group of retirees from Laborers For Christ, who were hired to help the congregation add a new sanctuary to their church.

Laborers For Christ is comprised by retired people who travel the country from congregation to congregation helping each one with a building project. Some laborers choose to work year-round, while some choose to work on one or two projects per year.

St. Paul's - a Missouri Synod Lutheran Church with numerous members from Paynesville - formed a building committee to look into the costs of building a new sanctuary in January 2001. After the congregation voted to start the project using Laborers For Christ in March 2003, committee chairman Bert Stanley worked with the architect to get the project under way as soon as possible.

For some parts of the construction, the building committee got bids from outside companies for specialty jobs that the laborers don't have the equipment or skills to perform, said Stanley. Those jobs include pouring cement or laying block. The rest of the work is done by the laborers and volunteers from the congregation.

The main reason St. Paul's decided to ask Laborers For Christ for their help was cost, according to Stanley. St. Paul's pays the laborers minimum wage, and the Laborers For Christ program gets $1.50 per square foot of the construction. It was by far the cheapest way to build an addition, said Stanley.

St. Paul's plans were originally to build a new sanctuary and turn the old sanctuary into a fellowship hall. They had also hoped to move the kitchen, which is in the basement, up to the main floor. Due to a lack of funding, the kitchen will remain in the basement until a later time. Laborers For Christ is helping St. Paul's with the building of their new sanctuary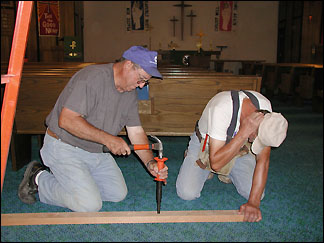 Volunteers Charlie Skelton (with hammer) and Bob Gulliver help put up a temporary wall in St. Paul's current sanctuary.
Project manager Bernie Guelder and his wife Shirley don't even own their own home, going from job to job. "Wherever we park our fifth wheel is home," said Guelder, who has been with the program since 1995 and is working on his 12th project.
"It's an enjoyment to work with like-minded people for a good cause," said Guelder, who plans to continue with Laborers For Christ as long as his health allows.
Bob and Frieda Gulliver said that Laborers For Christ has given them a spiritual purpose in retirement. They have worked with Laborers For Christ since 1995. This is Bob's 13th project, and Freida's third full-time project.
Richard and Norma Gieselman are newcomers to Laborers For Christ. Gieselman said he didn't know what to expect of this experience, his first with Laborers For Christ. "I have to do something," he said. He wants to remain active in retirement and believes this is an excellent way of doing that.
The laborers come from as far away as Phoenix and Wichita and range in age. Randy Erickson, at 83, is the oldest member of the Laborers For Christ group working at St. Paul's.
They agree that the congregation members make their job worthwhile. Getting to know the volunteers from the host church makes their job a lot easier.
"I feel right at home in each place," said Charlie Skelton, who is doing his third project with Laborers For Christ. Skelton enjoys working with Laborers For Christ because of the people he meets at each congregation.
The laborers take turns with devotions every morning at their 9:30 a.m. coffee break. They believe it helps them keep their focus on why they are spending their retirement with Laborers For Christ.
The crew will be staying at St. Paul's until November, no matter how far the project is. Due to the cold Minnesota weather, they'll be frozen out by then, if not earlier.
When the laborers head home - or to their next project - the congregation will work to finish the building project at St. Paul's.
More information about Laborers For Christ is available at mission.lcms.org/laborers/.
---
Contact the author at editor@paynesvillepress.com • Return to News Menu
Home | Marketplace | Community
---