Thousands of music fans are expected this weekend for Cornstalk Fest 2003, which started in 1989 when Johnny Cash played at the inaugural festival. This will be the 14th music festival in Regal, since Cornstalk was not held in 1998.

This year, national artists scheduled to appear in Regal on Friday, July 18, and on Saturday, July 19, include the Charlie Daniels Band, Leon Russell, Johnny Rivers, Mel Tillis, PinMonkey, John Conlee, and Mila Mason.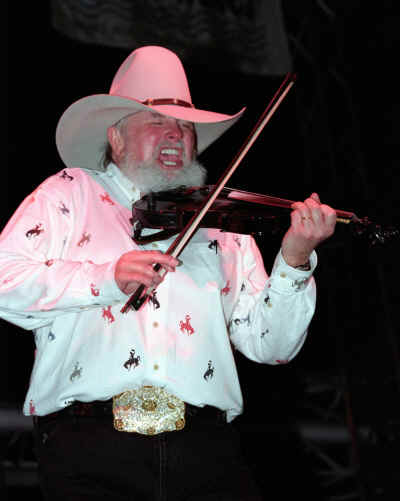 In 2002, two-day attendance at Cornstalk - with Sawyer Brown, Terri Clark, Rhett Atkins, Wade Hayes, Darryle Singletary, and Little Big Town - was 20,000.
The music starts both days at 12 noon with regional bands, with the national acts taking the main stage in an old barn at 4 p.m.
Cornstalk Fest 2003, hosted by the County Line Bar, will once again offer camping, with the 45-acre campground opening on Thursday, July 17, at noon. A kickoff party will be held on Thursday night.
According to the organizers, previous performers at Cornstalk include: Johnny Cash, Merle Haggard, Waylon Jennings, George Jones, Loretta Lynn, June Carter Cash, Willie Nelson, the Nitty Gritty Dirt Band, Martina McBride, Johnny Paycheck, Charley Pride, Eddie Rabbitt, Conway Twitty, Kitty Wells, and Tammy Wynette.
Friday's Lineup
6 p.m. - PinMonkey released its debut album in October 2002, just months after being discovered in a Nashville club. The album included the hit single, "Barbed Wire and Roses," and included a guest appearance by Dolly Parton on "Falling Out of Love With Me," a song that Parton recorded in 1976.
The four-man band - named after a line from The Simpsons - also recorded a Cyndi Lauper song ("I Drove All Night") and a Sugar Ray song ("Fly") on their debut album.
8 p.m. - Johnny Rivers' first single in the 1960s - a version of Chuck Berry's "Memphis" - hit #2 in the country and started Rivers on a series of hit songs over the next decade. He chose another Chuck Berry song for his follow-up single, and his version of "Maybelline" hit #12.
Other hit singles for Rivers include "Mountain of Love," "Midnight Special," "Seventh Son," "Where Have All the Flowers Gone," and "Secret Agent Man," which hit #3 in 1966.
In 1967, Rivers had his first #1 hit with "Poor Side of Town" and also hit #3 with "Baby I Need Your Lovin'" and the top ten with "The Tracks of my Tears."
In 1972, Rivers hit #6 with "Rockin' Pneumonia/Boogie Woogie Flu," and in 1977 hit #10 with "Swayin' to the Music," his last top ten hit.
10 p.m. - Charlie Daniels formed the Charlie Daniels Band in 1970, following years as a session musician and playing in bluegrass, rhythm and blues, jazz, and rock and roll bands. Daniels, who grew up in North Carolina and Georgia, wrote his first song in 1953, had a song he cowrote ("It Hurts Me") recorded by Elvis Presley in 1964, and played on Bob Dylan's album "Nashville Skyline" in 1967.
The Charlie Daniels Band - one of the first southern rock bands - had its first hit song in 1973 with "Uneasy Rider," which reached #9. In 1976, Charlie Daniels supported Jimmy Carter in the presidential election, and the Charlie Daniels Band played at his inauguration.
In 1979, the song "Devil Went Down to Georgia" reached #1, and Daniels won a Grammy Award for Best Country Vocal.
The six-man band has released over 40 albums and appeared in the 1980 film, Urban Cowboy.
In 2003, the Charlie Daniels Band is releasing a new album, "Freedom and Justice For All," including mostly patriotic songs. Charlie Daniels, now 66, is also releasing a book this month entitled "Ain't No Rag: Friends, Family, and the Flag." Saturday's Lineup
4 p.m. - Mila Mason's mother traveled the country as a singer, exposing Mila to show business at a young age. At age six, she appeared on a toy box, and at age eight she sang in a Bob Hope special.
She got her big country break years later, working as a fragrance model in a mall. She had sung some jingles for commercials and worked as a model and passed out demo tapes during her lunch breaks from modeling at the mall.
Since that break in 1995, Mila has released three albums: "That's Enough of That" in 1996; "The Strong One" in 1998; and "Just a Peek" in 2001.
6 p.m. - In 1978, John Conlee released the album and song "Rose Colored Glasses," which earned him Best New Country Singer from the Academy of Country Music and earned a nomination for Album of the Year by the Country Music Association. That success prompted the re-release of his debut album, "Back Side of Thirty," which then reached #1.
Known for his easily-recognizable baritone, Conlee has since had eight #1 hits on the country charts and 26 Top 20 hits, including "Lady Lay Down," "Before My Time," "Busted," "Friday Night Blues," and "I Don't Remember Loving You."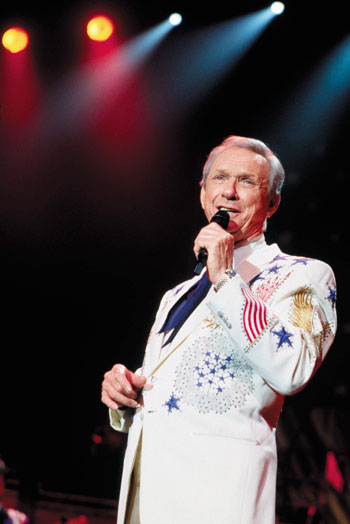 Raised in the farm country of Kentucky, Conlee still likes to spend time on his 32-acre farm outside Nashville. He has performed in nine Farm Aid concerts.
Conlee played at Cornstalk in 2001 and was highly requested for a return appearance, said County Line Bar owner Don Driggs.
8 p.m. - Mel Tillis has written over 1,000 songs, of which around 600 have been recorded by other artists, including Kenny Rogers, George Strait, and Ricky Skaggs.
Tillis has recorded more than 60 albums himself and has been in show business for 47 years. He has 36 top ten singles and nine #1 hits, including "Good Woman Blues," "Coca Cola Cowboy," and "Southern Rain."
He was inducted into the Nashville Songwriters Internation-al Hall of Fame in 1976 and was named Entertainer of the Year in 1976 by the Country Music Association. He has also won Comedian of the Year six times. Tillis also has appeared in several movies, including "Every Which Way But Loose," "Cannonball Run," and "Smokey and the Bandit II."
10 p.m. - Leon Russell was well known in rock and roll before starting to play country in the 1970s.
Born in Oklahoma in 1942, Russell started playing piano in clubs at 14 and backed Jerry Lee Lewis, who took him on the road for two years. Leon played sessions with Bob Dylan, Frank Sinatra, the Rolling Stones, Ike and Tina Turner, Bobby Darin, the Byrds, and Johnny Mathis. He played with the Beach Boys on "California Girls" and
with Jan and Dean on "Surf City." He wrote "Delta Lady," a hit for Joe Cocker; "Superstar," a hit for the Carpenters; and Hummingbird," covered by B.B. King.
Russell played in George Harrison's Concert for Bangladesh, and by 1973 was a top concert attraction. Elton John, ZZ Top, Willie Nelson, and the Charlie Daniels Band opened for him.
Russell recorded the album "One for the Road" with Nelson and the hit single "Heartbreak Hotel." He has toured with Nelson several times.
---
Contact the author at editor@paynesvillepress.com • Return to News Menu
Home | Marketplace | Community
---