Schuelkes retire from Card-a-Rama after 15 years
This article submitted by Beth Zimmerman on 7/14/98.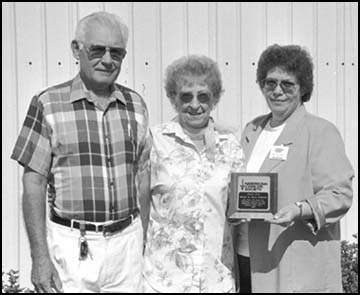 Winnie and Harry Schuelke have retired as cochairpersons of the Paynesville Area Cancer Card-a-Rama Program after serving 15 years by collecting and recording the scores and funds.

Approximately $2,000 is contributed each year through the Card-a-Rama program. The money remains in the area for use by cancer patients who need assistance with transportation, beds, crutches, wheelchairs, bandages, special clothing and other items.

Participants play once a month at their homes and contribute $1 per person.

ďIt is a great way for newcomers to the community to meet others interested in playing Bridge, 500 or Whist and have an enjoyable time while contributing to a good cause,Ē Harry said.

The Card-a-Rama program was started in 1977 by Elaine Vanderpool and Cyrilla Dillon. Participation has grown from 52 to 248 people per year since the programís inception.

This past year, 232 people participated, including residents of Paynesville, Spicer, Eden Valley, Rice Lake, St. Martin, Roscoe, Richmond and Lake Henry.

Mary Helen Torborg, Paynesville, will be taking over the Schuelkesí duties in the program.

ďWe still will continue to play, though,Ē Winnie said.

Elaine Vanderpool, local coordinator, and Luella Kraemer recruit and arrange monthly game schedules.

Games begin in September and end in May. Playoff prizes are awarded in each of the 13 or more groups.

If interested, call Elaine Vanderpool at 320-243-3808, Luella Kraemer at 320-243-3201 or Mary Helen Torborg at 320-243-3958.
---