All of Viola Wagner's 19 children present at her funeral
This article submitted by Beth Zimmerman on 7/14/98.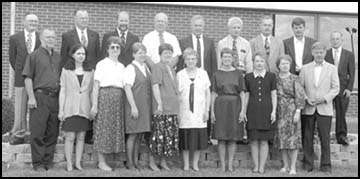 To the average passer-by, last Wednesdayís funeral of Viola Wagner, 88, may have seemed like a typical one. Wagner, however, left a legacy that is not a common one.

Wagner and her late husband, Bernard, had 19 children. Although large families were common years ago, the Wagner family is unique because all of the 19 children, ranging in age from 69 to 45, are living today, and all were present at her funeral.

According to daughter Barb Peterson, ďIt was very important to the family that we all be here for her funeral. It would have been important to her, too.Ē

Family get-togethers have always been important to the family. The last time all 19 children were together was last July, at Violaís 88th birthday party.

ďShe was happy, but she was also very calm when she saw all of us,Ē eldest daughter Erma Moorman said.

Peterson said, ďIt took a lot to get her shook up.

ďGet-togethers are pretty crowded with all the grandchildren and great-grandchildren,Ē she said.

Moorman describes growing up on a farm with a family of 21.

ďThere was always lots of work to be done, but we could always get up a baseball game,Ē she said. ďWe used our imaginations.Ē

Peterson said, ďThe threshing crew always knew they would get a good meal at our house because Mom was such a good cook.Ē

Viola succeeded in instilling a firm sense of values in her children.

ďUp until the last few weeks, Mom went to Mass almost every day,Ē Peterson said. ďShe also liked to know that we were all getting along.Ē

According to Peterson, ďWeíve all gotten to know each other better this past week.Ē

Viola would have been pleased to hear it. She may not have shown it much, but she would have been pleased.
---