Spring Hill farm hosts tractor tour
This article submitted by Michael Jacobson on 7/14/99.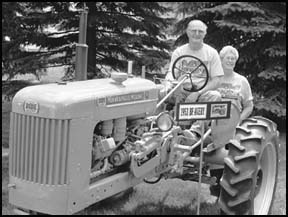 At least one tractor enthusiast thought he had found heaven Saturday while touring a collection of restored Minneapolis Moline tractors on the Tom and Marie Wuertz (pictured at right) farm near Spring Hill.

Around 200 tractor collectors, former Minneapolis Moline workers, and interested neighbors stopped at the farm for a tour of the tractors, farm machinery, toy tractors, and antique cars. Lunch was served.

The stop in Spring Hill was part of the Fourth Annual Minneapolis Moline Get Together. On Saturday, a 50-passenger bus plus other cars visited an implement dealer in Elrosa, the Wuertz farm near Spring Hill, and another farm near Albany. On Sunday, more than 400 people were expected for a picnic in Rockford.

The Saturday tour was organized by Bernice Caruth, a Lake Henry native and cousin to Tom Wuertz. One spectator told Caruth that he thought he had died and gone to heaven at the Wuertz farm.

"I'm just glad that they're keeping this tradition alive," she said.

The tradition started in 1943 with Tom's and Bernice's fathers, Paul and Elmer respectively. In that year, the hydraulic loader on Paul Wuertz's farm and improvements to a corn picker got the attention of Minneapolis Moline. The loader was patented in 1944.

In making the original hydraulic loader, Tom said his father couldn't find large enough hydraulic cases, so he made some using galvanized steel pipes.

After that, the Paul Wuertz farm became a test farm for Minneapolis Moline. "Everything we had was Minneapolis Moline," recalled Tom. "When they had a new piece of equipment, they'd bring it out here and dad would get the bugs out of it."

New pieces of equipment would arrive each spring. They were used on the farm and modified. Later, Minneapolis Moline engineers would visit the farm to inspect them. "They'd come out during the summer and see what he'd done to improve it," Tom said.

Elmer would help, and at the end of the season, the modified pieces of equipment would go to Elmer's farm near Lake Henry.

The other Wuertz patent was in 1952 for an automatic bale tension, which had been developed earlier, in the 1940s. Tom said his father also made a homemade silage chopper, a knife sharpener for sickles, and a barn cleaner that has run in their dairy barn for 58 years.

Pictures of Paul and Elmer working on the Wuertz farm were used in Minneapolis Moline advertisements and appeared in farm magazines. The company took home movies of the machines at work in Spring Hill in the 1940s, and Tom said those tapes were shown in the church basement.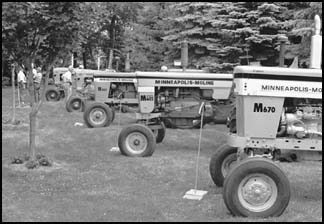 Mechanically inclined like his father, Tom built a custom snow blower, with an enclosed cab, while in high school. "At that time," he explained, "I never dreamt I'd be restoring Moline tractors."
He started with the tractors 14 years ago. A few pieces of equipment were left around the farm. Then he bought a tractor from a neighbor, and now people come and ask him to buy old tractors every year.
Tom, who took over the farm in 1972, has 29 tractors, and more than 20 have been completely restored. Ages range from the 1930s to the 1970s, by which time Minneapolis Moline had been purchased by White Outdoor Products.
In his restoration, Tom does the mechanical work himself: finding parts, making repairs, and cleaning the tractors. All the tractors run.
For finishing the restored tractors, Tom hires out the sand blasting and painting. Tom and his wife, Marie, and their children and family all helped in putting on the tour on Saturday.
Wes Robertson, Dassel, is one of the organizers of the Minneapolis Moline Get Together. "This is the first time we've come up to this area. These guys have never gotten much publicity or credit," he said during the tour. "Boy, they'll get it after today."
"(The Wuertzes) have really put their hearts into this thing," he said. "These people should go home tonight tickled to death that they saw this stuff."
Robertson was a dairy farmer until 1969 and then worked as a foreman on a commercial air conditioning assembly line. "When I retired, I figured I had to do something to keep busy, so I bought a Minneapolis Moline and that got it all started," he explained.
Now he has a collection of 30 tractors. "It's kept me busy. It's kept me greasy. It's kept me broke, but I've met some of the best people in the world," he said.
Caruth agreed, "I talk so much during the day I lose my voice. You meet so many wonderful people."
---