The city of Paynesville recently was awarded a $100,000 grant from the DNR to purchase property for the Kruger Lake Nature Preserve.

The grant, which will require a $100,000 local match, will go toward the purchase of 32 acres of Kruger Lake, property east of Paynesville. The city plans to restore the property - much of which is used for agricultural purposes now - to its natural state and use it as a nature preserve.

Owner Mary Hahn offered the property to the city for $200,00, which is less than its appraised value, because she didn't want the land developed. Hahn's vision includes volunteers helping to restore and maintain the property while learning about nature.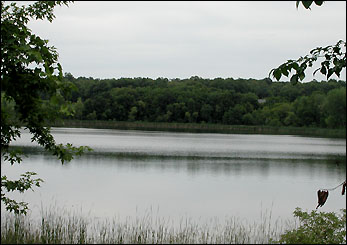 City administrator Steve Helget was pleasantly surprised that the city was awarded the grant. The city has applied for DNR grants before - three times for improvements to the picnic shelters at Veteran's Memorial Park - and has been turned down three times.
The city of Paynesville has received a $100,000 grant from the DNR for the purchase of 32 acres of Kruger Lake. The purchase price of the property is $200,000. The property, if purchased, would be restored to its natural state and used as a nature park.
Paynesville Township may also participate in the project. The township board has agreed to participate on a 62:38 basis (based on the population split), but township participation is still dependent on residents agreeing to levy for the project at their annual meeting next March.
Earlier this month a joint ad-hoc committee was formed to consider the project and how to finance it. Members of the Kruger Lake Nature Preserve committee are: Harlan Beek, who represents the Paynesville City Council; Nancy Ellis; Jeff Haas; Mary Hahn; Julie Hemen; Tom Koshiol; Adrian Louis; Ron Mergen, public works director; Aaron Meyer, of the Stearns County Soil and Water Conservation District; Tracey Piepenberg; Harry Theilen, who represents Paynesville Township; Jay Thompson; and John Wimmer.
The grant could make this project more of a priority for the city. In May, the city put the Kruger Lake Nature Preserve on the bottom of a list of its recreational priorities, behind the aquatic park and behind the Lake Koronis Recreational Trail.
But, now that the grant has been awarded, the city may have a good reason to move ahead with the project. The grant agreement stipulates that land for the nature preserve needs to be purchased and that a gravel trail needs to be in place by December 2006, which means the project won't have to be rushed, said Helget.
The next steps will be to finish negotiations with Hahn and to determine from where funds for the land purchase will come, said Helget. Then the city can begin applying for additional grants and raising money for restoring the property.
---
Contact the author at editor@paynesvillepress.com • Return to News Menu
Home | Marketplace | Community
---