Trista Dukowitz has always been interested in mythology, so a trip to Greece sounded like fun to her.

Dukowitz, a 2001 PAHS graduate, traveled on a school trip to Greece with 15 people for 13 days in May.

She decided to go on the trip this spring because she wasn't sure she wanted to spend a whole semester studying abroad. Instead, she opted for a two-week trip led by her school advisor from the University of Minnesota-Morris.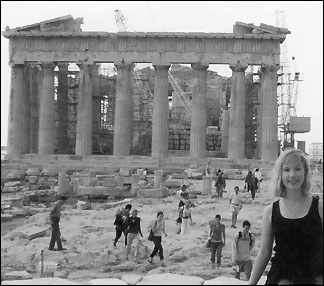 While in Greece the group visited Athens, Kalambaka, Thessalonki, Kavala, and other cities.
Dukowitz was grateful the group had a Greek tour guide who was able to answer any questions the group had.
Dukowitz's favorite part of the trip was the temple at Delphi dedicated to Apollo, a Greek God.
Trista Dukowitz stands in front of the Parthenon at the Acropolis in Athens while visiting Greece on a two-week school trip in May.
She also really liked learning about the Greek culture. For instance, she learned while they were eating at a taverna that each person is supposed to order a meal and then everybody shares with the rest of the people at the table. She said that the waiter looked at them funny when they all tried to eat their own big plate of food. They also ended up sitting at that particular taverna for a long time because they didn't know they needed to ask for the check.
Another difference Dukowitz encountered was that the Greeks were more laid back. The workers at the airport even took time to make small talk with the tourists, unlike in the United States, she said.
Dukowitz said that most shop owners and a lot of younger residents could speak English, and several other languages, too, so she didn't have trouble communicating with them. Signs and menus were, however, written in Greek, so she did have trouble ordering off the menu in the beginning. Her least favorite part of the trip was in the beginning when she didn't know what kind of food she was ordering. It took her about three to four days to know what to order.
While Dukowitz was in Greece she tried squid and octopus. She said they were "pretty good."
The one thing that tasted a little bit different to Dukowitz was Coke. Dukowitz said it tasted a little bit like cinnamon. But it was still served in bottles, which she thought was pretty cool.
While on her visit, Dukowitz got to learn a lot about art history, including the Byzantine Era, and a little bit about architecture.
While Dukowitz was looking at a church built in the 1800s during a tour, her guide explained that the church was relatively new. Dukowitz was very surprised to hear that someone would consider the 1800s new.
Dukowitz said that the cars people drive in Greece are very small, and the thing that amazed her was that they couldn't park them on the streets. Instead, everybody parked on the sidewalk. She also said the Greeks drive a lot of mopeds.
Another thing that surprised her was that there were dogs and cats wandering the streets in Athens. And she said the animals were very smart, because they waited to cross the street until the light changed to show that they could walk. Dukowitz said that the animals were very friendly, and safe, because people would give them collars and shots to keep them healthy.
While Dukowitz was touring, she got to see people getting ready for the 2004 Summer Olympics. She noticed that they were fixing roads, and she even got to see the Olympic torch burning.
Dukowitz had a lot of fun on her trip to Greece and said she would like to travel again in the future. She said she would like to travel to Egypt and Italy with either friends or family.
---
Contact the author at editor@paynesvillepress.com • Return to News Menu
Home | Marketplace | Community
---