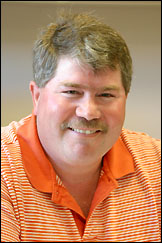 "You're only as good as the people around you."

New Paynesville superintendent Todd Burlingame intends to use that as his motto, and he feels he should be in good shape working with an experienced staff at the district office, having good parents and students, and working with good administration and staff.

New superintendent Todd Burlingame, who assumed his new duties in July, has worked for the Paynesville Area School District for five years as elementary principal.

Paynesville, he said, is a great place to raise kids, which is one of the reasons why he was interested in becoming the new superintendent here.

Burlingame, who has been the elementary principal for five years, started as superintendent in July, taking over for Howard Caldwell, who retired in June.

In his new job, Burlingame's responsibilities have grown. Instead of supervising 50 employees and 430 students at the elementary school, he now supervises 150 employees and 1,100 students in the entire district.

As principal, he was in charge of the supply budget and capital improvement budget for the elementary school, maybe $50,000 per year. Now, he is in charge of the overall district budget, which totals nearly $10 million. Instead of dealing with budget items costing thousands or tens of thousands of dollars, he now will deal in the hundreds of thousands and millions of dollars.

"It's a different world from being a principal," said Burlingame.

His new responsibilities include "everything and anything," he said. He reports directly to the school board and is responsible for making agendas for the board meetings, too.

His #1 priority for the district will be to continue to operate in the black, he said. To handle the district finances, which includes daily updates on their income and spending, the experienced district office should be a big help, according to Burlingame, including secretary Donna Ahrens, accountant Joan Brogard, and payroll clerk LuAnn Loxtercamp.

Most districts have a business manager to handle its finances, but Paynesville has saved money by having the superintendent handle these duties, Burlingame said. Mastering them is one of the challenges of his new job.

Burlingame, who was tabbed by the school board as the next superintendent in October 2003, got a head start on his new duties by working with Caldwell, especially during the past six months. From January to June, Burlingame worked with retiring superintendent Howard Caldwell to start learning about his new job. He attended superintendent meetings, helped prepare the 2004-05 budget, and presented the budget reductions to the school board last winter.

Burlingame is very thankful for the guidance that Caldwell gave to him, he said. "Just to pick his brain was very valuable," he added.

In his first week on the job, Burlingame faced a busy time, with the district closing out is 2003-04 fiscal year (which ended on June 30, 2004) and starting its 2004-05 fiscal year (which began on July 1, 2004). He had to authorize hundreds of purchase orders for 2004-05 and prepare for his first school board meeting as superintendent on Tuesday, July 13.

In his first week, he even had to learn how to use a new computer, switching from a Macintosh used by the teaching staff and administrators to a PC in the district office. (Burlingame moved just down the hall from his former office as elementary principal to his new space in the district office.)

One of his goals as superintendent will be to focus on public support and community relations, said Burlingame. He wants to visit area organizations, get feedback from students, parents, and community members, and start a district website, which is included in the capital budget for 2004-05.

He also wants to meet more students and district parents. While elementary principal, he enjoyed getting to know parents and students in the building, and now he looks forward to getting to know more people in the district. (In fact, Burlingame uses visiting the cafeteria to talk to kids as a stress-reliever, a practice he expects to keep as superintendent.)

Though it has always been one of his career goals to become a superintendent, Burlingame did not expect it to happen so soon.

A native of Canby, Burlingame taught in South Dakota and at Minnewaska for seven years before serving as principal for two years in Virginia, Minn., and then coming to Paynesville. "From day one when we got here, people have been warm and friendly. We've never had any second guesses about coming here," Burlingame said.

He and his family wanted to stay in Paynesville and he felt he could have a even greater impact on kids as superintendent, he said about taking the new position.

"The opportunity was here," he explained, "and I can't think of a better place to start."

He said he'd be happy if he could last 15 years like his predecessor and remain as superintendent in Paynesville until he, too, reached retirement age.
---
Contact the author at editor@paynesvillepress.com • Return to News Menu
Home | Marketplace | Community
---