While "moseying" their way up from New Mexico to Duluth in June, Tom and Ellen Breheny were shocked to notice a town named Hawick on their Minnesota map.

It was such a surprise, he said, because Ellen is originally from Hawick, but her Hawick is more populous, with about 6,000 people, she said. She grew up in Hawick, Scotland, not Hawick, Minn., which has perhaps 100 people. No official population for Hawick, Minn., is available, because it is not actually a municipality but is part of Roseville Township.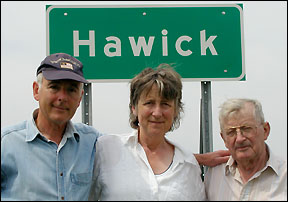 The couple took a morning during their nearly month-long vacation to visit Hawick and shared their story with a longtime resident of the community, Charles Weber. Weber demonstrated "Minnesota nice" to the visitors, leaving his lawn mower right where it was to welcome them to the town.
Tom and Ellen Breheny (left and center) of Scotland visited Hawick in June and were given a tour by resident Charles Weber (right). Ellen grew up in Hawick, Scotland, the town for which Hawick was named.
Hawick is named after Hawick, Scotland - which is pronounced "hoick" - according to historical documents in both places. Hawick, was originally named Russell, but another town in Minnesota was titled Russell, so R. Manvel, general manager of the railway, renamed the town Hawick.
In addition to the historical records, another indicator hints of a connection between the two towns. The name Hawick comes from hawthorn surrounded "wick" (wick is the Scottish word for town). The hawthorn is a small tree with red berries prevalent in the area of Hawick, Scotland, and Ellen was surprised not to see any hawthorn near its Minnesota namesake. Hawick is not named after the trees, so she said it is logical for the town to be named after the only other Hawick in the world. Curiously, each Hawick is located near a town named Melrose.
Though she left her southeastern Scottish town for higher education - because it was "a wee bit too far" from the major Scottish cities - Ellen's parents continued living in Hawick until the death of her father. Her mother now lives near the couple in Edinburgh, which is the capital of Scotland, and the family often visits Hawick.
Hawick, Scotland, is where Ellen first started to love art, and she is now the conservator of a Scottish museum. Tom also is an artist who does graphic design for a university and ad agencies.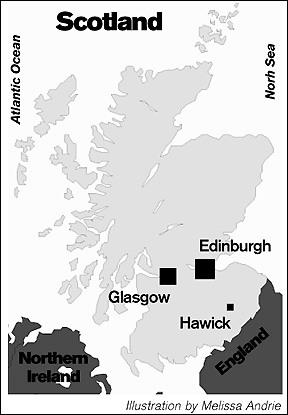 Tom, whose grandfather worked for Buffalo Bill when the Wild West legend was in Europe, has a passion for Native American history. In New Mexico, at the beginning of this trip, the couple visited a Native American friend on a reservation, and they stayed at different reservations on their way up to Minnesota, widening their knowledge and circle of acquaintances.
A couple from Hawick, Scotland, the only Hawick in the world besides its Minnesota namesake, stopped in Hawick last month.
Both Ellen and Tom have visited America at least five times, so they now remember to drive on the correct side of the road. They have learned much about the country; however, Ellen had a surprise on this trip when she saw one large bird species for the first time. "Pelicans! I got the shock of my life. I thought pelicans were from Africa," she exclaimed.
Differences beyond the absence of hawthorn and the location in central Minnesota were noticed by the couple as they visited Hawick and compared it to the one in Scotland. Narrow streets curve around stone rowhouses in Hawick, Scotland, where no buildings are constructed with wood.
The Scottish town is located at the joining of two fast-flowing rivers, in a hilly area that looks much like the Black Hills of South Dakota, according to Tom.
A much longer history is associated with the city than with its Minnesota match. Settled in the 600s, it saw three centuries of major battles in wars between England and Scotland before Columbus came to the Americas. "Castles are everywhere," remnants from those times of conflict and conquest, said Tom.
A key event in the history of Hawick, Scotland was a battle in the early 16th Century. Most of the town's warriors had perished and English troops threatened the city. The boys of the town fought them, with one riding into their camp and capturing the English standard.
Some of this same spunk was shown by early residents of the Hawick in Minnesota. A raid of the town turned into a fight between Chippewa and Sioux Indians in the early 1900s, as related by Ed Schwandt when Hawick celebrated its centennial in 1986. During the scuffle, one woman chased some of the Chippewa out of her home with a broom.
Economic history is also widely different between the two Hawicks. Hawick, Scotland, has relied primarily on the textile industry for growth. Hand knitting of socks in the 1600s led to the employment of about 3,000 workers in the industry a century before Hawick, Minn., was even founded.
Sheep are everywhere, said Tom, because wool is a core resource for the Scottish town, and livestock trade has become a source of revenue. Often livestock are contained by hedges of hawthorn, the bushy tree for which Hawick was named.
Salmon fishing is also popular, but citizens have only short stretches of the rivers for sport fishing - the common lands area - because most of the rivers are owned by aristocracy.
At one time, the Minnesota village had two grain elevators, with agriculture fueling them, as well as a local creamery and meat market, according to its centennial history. Its lumberyard is still open, though most of its businesses have closed their doors.
Different as they are, both communities were dominated by their railroads, though an open station is not found in either Hawick today.
The two Hawicks have had a connection for a number of years. According to a Press article from 1959, an exchange student from New London, Minn., had visited Hawick, Scotland, and initiated correspondence between the city and its namesake. Scottish residents have come here to see the namesake city and a Hawick native, Linda Paulson, spent a week in Hawick, Scotland while studying abroad in 1983.
No visitors familiar with Hawick, Scotland - as far as it is known - have happened upon Hawick, Minn., by accident, except the Brehenys. The couple of 35 years was pleasantly surprised, not only to see the name on the map, but also by what they found. "People are so welcoming here," said Tom, and - though they had been surprised to find there was no place to have breakfast in the local Hawick - both were impressed by the community.
---
Contact the author at editor@paynesvillepress.com • Return to News Menu
Home | Marketplace | Community
---