While not surprised that Nordland Lutheran Church planned a benefit for a family in need, Joe Ellevold was surprised that the family happened to be his very own.

Joe - who has been a member of the church for four years - suffered a stroke in mid-April that has kept him in therapy and out of work. A benefit was held Sunday to assist his family with medical bills and living expenses.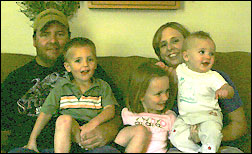 Joe's wife, Amanda, is originally a Haagenson and grew up in Manannah. She is a lifelong member of Nordland and was baptized and confirmed there. The Ellevolds attend Nordland, where they were married, with their three children: Madyson, age four; Caleb, age three; and Lydia, nine months.
A benefit was held for the Ellevold family - (left to right) Joe, Caleb, Madyson, Amanda, and Lydia (being held) - of Eden Valley at Nordland Lutheran Church on Sunday. Joe suffered a stroke in April.
While napping before his night shift at Hutchinson Technology in April, Joe had a stroke. Doctors believe that Joe's kidney - he was born with only one - irregulated his blood pressure, which spiked to cause the stroke.
He spent three and a half weeks in the St. Cloud Hospital, beginning a recovery process which he continues today. Only two days of speech therapy were needed for the Sleepy Eye native, but other movements did not return so easily.
Upon returning home, Joe continued therapy there, aided by visits from the parish nurse, while other members of Nordland set up transportation to get him to therapy in Paynesville.
Only one ride from the volunteers was used, though, because Joe passed a driving test and his license was reinstated. Now he drives himself to therapy three times a week.
Two therapists at the clinic in Paynesville have been working with Joe, but in three weeks he will say goodbye to one. At that time, he should no longer need supervision to rehabilitate his legs, but will continue with an upper body therapist.
Though his arms are gradually healing, Joe is not yet able to feel his right hand. An electric stimulator used for therapy sends jolts through his hand and arm every five seconds, causing his fingers to open and close in a fist. While this happens, Joe has to concentrate on the muscles that the electricity is moving, straining to reconnect those muscles and his brain.
Two high blood pressure medications that Joe was taking before the stroke are helping regulate his health more effectively with higher doses. He has a machine to measure his blood pressure and says, "I check it religiously now, three to four times a day."
This point in the recovery process, when the dry blood from the injury is dissipating in his brain, is the best time for healing, doctors told Joe. However, he said that everyone recovers from strokes differently and no predictions can be made about possible lasting effects.
He was told last month that he may never recover further, Joe explained, adding that the process is frustrating. Though he has been told he's healing well, he said it doesn't seem that way to him. "It's long, slow, and hard to keep my patience," he said.
His children help him find some humor in the situation, though. Because he does not have total control over his mouth muscles, Joe sometimes drools, and Madyson never fails to tell him.
Eager to return to Hutchinson Technology - where he has worked for eight years and currently trains employees to inspect parts for quality - Joe hopes to be working again in late August.
These months without Joe's income are a financial struggle, even though Amanda, who runs a daycare, only took one week off of work when he had his stroke. She cares for seven children out of the Ellevold's home in Eden Valley in addition to their own three children.
One of the benefit coordinators, church evangelism board member Marlys Pearson, said the Ellevolds are "tied in so much with this community." The family's need was recognized and a benefit supper, silent auction, and food sale were organized, which Joe, Amanda, and their children were able to attend.
Pearson, who said that she was "brought up to care," and Cheryl Porter, another organizer and evangelism board member, are pleased that so many community members and businesses are willing to donate. "It's a really nice thing about small communities," Porter explained.
Supplement funds are being provided to the Ellevolds through Thrivent Financial for Lutherans, because benefit coordinators had applied through the program to receive up to $1,600. The money raised will help prevent financial problems for the family as Joe continues to recover.
Additional monetary donations for the family are being accepted this week by Gail Thompson at 36867 CSAH 25; Paynesville, MN; 56362.
"Dad, does your arm work today?" asks Madyson each morning. He has not been able to answer "yes" yet, but Joe is hopeful. And he is grateful to his supportive church family, which he now appreciates in a new light.
---
Contact the author at editor@paynesvillepress.com • Return to News Menu
Home | Marketplace | Community
---