The joy of family practice medicine, according to Dr. Juan Lewis, who joined the medical staff at the Paynesville Area Health Care System this month, is being like an extra family member.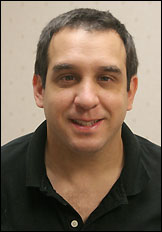 "When people have problems, you're more than likely the first doctor they see," said Lewis. "You don't hear people say, 'I'm going to talk to my dermatologist.'"
Dr. Juan Lewis joined the Paynesville Area Health Care System in early July, becoming the eighth family practice physician and the tenth medical doctor on staff.
Family practice physicians know people from delivery to childhood checks and teenage sports physicals into adulthood. "You take care of the whole family during the most important times of their lives."
"I just like family practice because you take care of everyone," he added. "You get a lot more continuous care."
Dr. Lewis became the eighth family practice physician and the tenth medical doctor on staff at PAHCS this month. He will work four and a half days each week at the Paynesville Area Medical Clinic, as well as handle call and rounds at the Paynesville Area Hospital.
He grew up in San Antonio, Texas, went to undergraduate at Our Lady of the Lake University in San Antonio, and attended the University of Texas Medical Branch in Galveston, Texas.
When it came time for his three-year residency, he chose the Hennepin County Medical Center in Minneapolis, which brought him to Minnesota, where he met his wife. "Someone told me it would be too cold for me in Minnesota, so I took that as a challenge," he said.
He spent so much time in the hospital during his first year of residency that he didn't notice the weather, he said. Although still not a great fan of cold winter weather, the beauty of the state and the friendliness of the people have won him over.
"It's definitely cold, but the people's hearts are warm, so I like it," he said.
"I love Minnesota. It's kind of grown on me," he added.
He mentioned the civic pride in Minnesota, as evidenced in the care people take to make their residences and communities look nice, like postcards, said Lewis. "You compare a small town here and a small town in Texas; it's just a different feel," he explained.
After completing his residency and spending an unhappy year in North Dakota, Dr. Lewis took a job at PAHCS and moved with his family to Paynesville. "We wanted to be in Minnesota because it's so beautiful," he said, adding that the location (near the Twin Cities and St. Cloud) is perfect for their family.
When he interviewed at PAHCS, Lewis was impressed with the modern equipment and facilities. Hennepin County Medical Center is so big that it naturally has the "best of everything," said Lewis, but at PAHCS "the equipment is equally good or better."
PAHCS is not only progressive for a rural health care provider, added Lewis, "but for any setting."
"If you walk into a labor suite at HCMC and a labor suite here, the labor suite here is actually better," he explained.
Modern equipment and a great staff make PAHCS a great place to practice medicine. "I'm excited to be here," he said.
Like many kids, Lewis dreamed of becoming a doctor as a kid. At first it was mostly childhood dreaming. But, because he was sick a lot as a kid, including many hospital stays, he began to appreciate the people who took care of him.
When he was about 12 years old, he needed to have surgery and remembers his surgeon coming into the operating room to reassure him before he was put under anesthesia. "He was so nice, and I was so scared," said Lewis.
"I just thought that's so great," he added. "I want to be like that. I want to be like him. I want to take care of people and help them when they are sick."
He likes all the aspects of family practice, relishing the variety but also has special interests in depression, anxieties, and phobias.
Away from work, Lewis enjoys playing guitar, learning to play drums, spending time with his family (wife Andrea, whom he met in Minneapolis, and son David 4), playing with their new puppy, grilling, and watching TV.
---
Contact the author at editor@paynesvillepress.com • Return to News Menu
Home | Marketplace | Community
---