Strong winds damages trees
This article submitted by Linda Stelling on 7/12/00.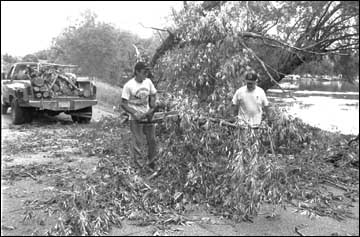 An early morning storm with strong winds blew through the Paynesville area on Wednesday, July 5, knocking down tree branches and causing power outages.

Bob Conzemius, St. Cloud State University meteorologist, said a complex of storms went through the area Wednesday. A shelf cloud created the winds which gusted up to 55 miles per hour.

Tree down on Baywater Road with Bruce Bork and John Atwood.

The small town of Hawick had several tree branches down in town. A large tree branch fell across three vehicles in Roxanne Gale's yard, just east of her house. The branch broke the rear window in one of the vehicles.

At Beth Tersteeg's home in Hawick, a tent blew over a tree and wrapped around a power pole. However, tennis shoes on the deck of the house were left undisturbed.

Kim Schwalbe had a tree branch land on her trailer home, causing minor damages to the roof and edging. "She feels lucky," said her mother, Norma Froelich.

Strong winds blew over outside corn rows in many fields.

On the west end of Lake Koronis, downed trees blocked Baywater Road. "We never had any strong winds on our side of the lake," said John Atwood, who lives on the north side of Lake Koronis.

A tree branch on the southeast end of Lake Koronis landed on a transformer, causing sparks to fly and a power outage for the area.

On Wednesday morning, Meeker County Co-op Electric restored service to more than 50 customers on the south side of Lake Koronis.

Mary Sandok, Northern States Power, said they had 1,500 customers without power Wednesday. They had the power restored to everybody by 3 p.m.

Over the weekend, Paynesville was in a tornado watch twice. On Friday night, spotters reported a tornado touchdown near Terrace. On Saturday night, the watch turned into a warning after radar indicated a possible tornado southwest of Lake Henry.

Conzemius said four tornado touchdowns were recorded over the weekend at Sedan, Glenwood, Lowry, and Brooten.

While some areas of the Twin Cities received more than 10 inches of rain, the Paynesville area received about three inches total for the weekend.
---