Dog Haus gets new owners, name
This article submitted by Linda Stelling on 7/12/00.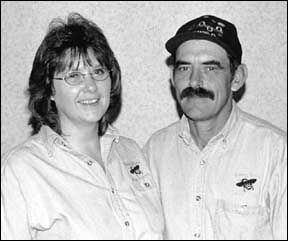 Paynesville natives Tom and Doris Wendlandt are the new owners of the Dog Haus. Wanting to give the place a fresh start, the business also received a new name, the Queen Bee.

Doris has been working in the food business since she was 13 years old. "I always wanted to own my own place," she said.

In preparation for her new role as a business owner, Doris attended Rasmussen Business College taking courses in business and restaurant management.

"Our goal is to make the Queen Bee a place where families want to take their children to eat, shoot pool, or play darts," Doris said.

The Queen Bee is open 9 a.m. to 1 a.m. Monday through Friday and 8 a.m. to 1 a.m. Saturdays. It is closed on Sundays. The kitchen will be open until 12:30 each night. "We want to keep it open as long as possible," Doris said.

The couple has five children and they will be helping out when needed. Tom works full time and will help out in the evenings. "The family is excited about our new venture," Doris said.

The Wendlandts are planning on hosting cribbage and 500 tournaments in the fall. Interested people can give them a call. They will continue to sponsor dart and pool leagues, a volleyball team, and three bowling teams.

"Our long-term goal is to expand the kitchen," Doris said. The couple wants to offer evening specials as well as continuing the noon specials. They also are planning on offering different specials for the different sports seasons.
---