History of Lake Koronis presented to local residents
This article submitted by Linda Stelling on 7/12/00.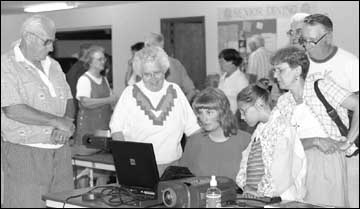 In 1887, George Stevens explored Lake Koronis in a flat bottom boat using fence posts for oars. In early historical accounts, he described the lake as a "flashing gem in a sea of green." Stevens was a big promoter of the lake through his newspaper, New Paynesville Press.

This was only one of many historical tidbits that Linda Lorentzen shared with her audience Wednesday night at the Paynesville Area Center. Because there is so much history about the lake, she concentrated on the era before 1910. She shared slides of early scenes from Lake Koronis. She also showed pictures of how the same area looks today.

Linda Lorentzen (seated) reviews her pictures of Lake Koronis with Jack Bugbee, Pearl Heitke, Danse and Diane Thielen, Ellsworth Schultz and unknown man.

Lorentzen's connection to Paynesville dates back to her great-grandparents. In 1965, her father built an A-frame cottage north of Windmill Point. Lorentzen still spends parts of her summers on Lake Koronis. She has researched the history of Lake Koronis for her column, "A View From The Lake," which appears in The Paynesville Press in the summer months.

In her research, Lorentzen has explored the early editions of the New Paynesville Press, the St. Cloud Daily Times, Litchfield Independent, and the files at the Paynesville Historical Society and Minnesota Historical Society.

"Growing up I heard different theories of the Indian maiden and how Lake Koronis got its name," Lorentzen said. An 1896 version tells of a tragic leap of a fair maiden trying to escape a marriage she did not want. A 1913 poem tells of an Indian maiden who was stricken with grief because her warrior was not being true to her.

Phil Behr's theory of how Koronis received its name dates back to the early 1700s when the Dakota Indians migrated to the area each spring. The Indians would winter near Mankato and make their way by canoe each spring to Lake Koronis. Early maps showed the river route the Indians took.

According to Lorentzen, the Greek for crown is Korones and in Latin it's corona. An aerial view of the lake show the islands form a crown. This is the version on how Koronis received its name that Lorentzen believes .

An 1857 map of the area shows the lake name as Cedar Lake. Lorentzen said at one time the islands and mainland shores were covered with red cedar trees. The trees disappeared as farmers cut them down for fence posts. "I was surprised at how few trees are seen in the early pictures at the turn of the century," said Lorentzen.

A Koronis post office existed from 1868 to 1874 in Union Grove Township just south of the lake. On an 1869 map, the lake was called Cedar and it was unclear whether a town or post office south of the lake was named Koronis, said Lorentzen.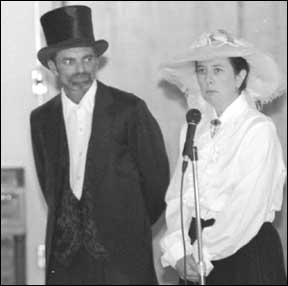 Early landmarks on the lake were an old landing, new landing, and sandy beach. Lorentzen explained the old landing is the area by Grand View Resort. The new landing is what is commonly known as Van's Beach and the sandy beach was the stretch of beach north of Van's Beach.
Lorentzen has heard stories of how, during dry years, someone had dredged the bottom between second and third island to make it more navigable. A couple of long-time residents in the audience said they had never heard of the lake being dredged.
But John Erdman recalled that his father, Robert, dug a trench by hand in the 1930s between first and second island during a dry year. Jack Bugbee recalled when he could walk between second and third island.
In 1897, Lorentzen's research showed that a steamship was dedicated on Lake Koronis. Free rides were advertised, however, the engine was not in a safe working order so no rides were given. Later there was a steamship on the lake that could hold 75 people.
Following Lorentzen's presentation, Steve and Michelle Gralish portrayed Isaac and Caroline Abbott, pioneers of the Paynesville area.
Lorentzen encouraged people to come to the museum to help identify early photographs of the lake with dates, location, and names of people. For more information, contact the Paynesville Historical Society at 320-243-7547.
---