Another Dr. Malling starts medical practice at PAHCS
This article submitted by Michael Jacobson on 7/12/00.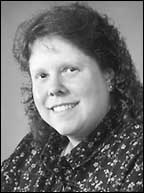 The newest addition to the medical staff at the Paynesville Area Health Care System has a familiar name: Dr. Malling.

Dr. Heidi Malling started her medical practice at PAHCS on Monday, July 3. She becomes the eighth medical doctor on staff and joins her brother, Dr. Tim Malling, as a family practice physician.

Dr. Heidi, or just Heidi, as she likes to be called, grew up in Waseca, Minn. She graduated from Augustana College in Sioux Falls, S.D., with a degree in nursing. She worked for two years as a registered nurse at Rochester Methodist Hospital.

Then she decided to go back to become a doctor.

After an additional year at Augustana for more undergraduate science courses, she enrolled at the University of Minnesota-Duluth School of Medicine. She did two years of classwork in Duluth, spent her third year in medical school in Aitkin, Minn., through the Rural Physician Associate Program, and graduated from the University of Minnesota School of Medicine in 1994.

She did her residency in Appleton, Wis.

After becoming a medical doctor, she spent a year as a locum tenens, a temporary substitute for doctors. She practiced medicine in Spokane, Wash., and Wasilla, Alaska, during that time.

For the past two years, she has been practicing medicine in Aitkin, where she got hands-on training as a medical student. The clinic she worked at in Aitkin is a similar size to the medical staff here, she said.

Heidi was attracted to Paynesville by her niece and nephew. "Tim's kids, basically," she said.

"It's a pretty area," she added. "It feels like where I grew up."

Dr. Heidi Malling will be working primarily in PAHCS's satellite clinic in Belgrade. She will have office hours at the Eastside Medical Clinic in Belgrade on Mondays, Tuesdays, Wednesday afternoons, and Fridays.

On Wednesday mornings, she will be handling clinic walk-ins and the emergency room in Paynesville. She will also be in the doctors' rotation for emergency room call on evenings and weekends.

Dr. Malling enjoys emergency medicine, in addition to family practice.

"So far, I like it," she said of her first week of practice for PAHCS. "My first day was on call, and I survived it."

"She's going to be a wonderful addition to our staff," said Rosemary Devlin, clinic manager for PAHCS.

With her arrival, the Belgrade clinic will be open an extra day and a half each week and will have an extra day of coverage by a medical doctor, according to Devlin.

Dr. Tom Sult, who used to spend two days a week in Belgrade, will now have all his office hours at the Integrated Health Center (IHC) in Paynesville. The IHC will also have expanded medical doctor coverage because of Malling's arrival.

PAHCS will be welcoming three other providers this summer, as well as retaining the services of Dr. Todd Lemke, Pharm.D. Two more medical doctors are scheduled to start practice: Dr. Larry Strate on Aug.1 and Dr. Clemma Nash on Sept. 1. Starting practice in September as well will be Dan Lillquist, a physician's assistant who did almost a year of training here.

Out of the office, Dr. Heidi Malling likes to spend time fishing, hunting, and camping. She is learning to golf and starting to horseback ride on her farm overlooking Rice Lake.
---