Odell named Pharmacist of the Year
This article submitted by Linda Stelling on 7/12/00.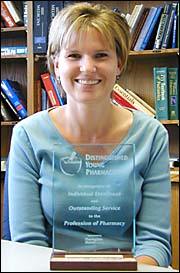 Dr. Laura Odell has been named the 2000 Distinguished Young Pharmacist of the Year in Minnesota. The prestigious award was conferred on the Paynesville pharmacist at the recent meeting of the Minnesota Pharmacists Association.

Laura has been employed at Paynesville Area Health Care System for five years. She graduated from University of Minnesota in 1994 with a Bachelor of Science Pharmacy Degree and in 1995 with a Pharm.D. degree.

Sponsored by Pharmacists Mutual Companies, the award is presented annually to a pharmacist in each state for individual excellence and outstanding contributions in state pharmacy association activities, community affairs, and in professional practice.

Pharmacists Mutual is a nationally recognized leader in professional liability insurance and claims management for pharmacists and pharmacies.
---