Students paint pictures for restaurant
This article submitted by Linda Stelling on 7/12/00.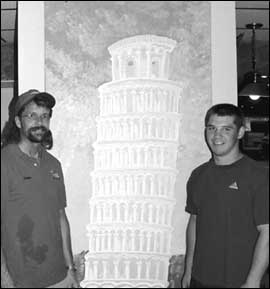 After doing some remodeling last fall at his restaurant, Jimmy Ochs felt some art on the walls would add to the decor. So he hired art students Karl Ainsley (right with owner Jimmy Ochs at left) and Charlie Davidson, both recent graduates of Paynesville Area High School, to do the job.

Ochs approached high school art teacher, Carol Lura, about his project. He asked if she had any students who could paint the Leaning Tower of Pisa and a still life design. Lura recommended Davidson and Ainsley.

"Jim told us what he wanted and gave us pictures to follow," Davidson said.

Ainsley first did a chalk drawing of the tower on a piece of paper. He showed the drawing to Ochs who liked what he saw. "I was really surprised to be commissioned to paint a picture," Ainsley added.

Both boys did their work at school. Ainsley said it took him about 20 hours to paint the picture. He was finished with his picture before school was out. Lura let Ainsley and Davidson paint in the art classroom during their study halls and whatever free time they had during the day.

It was the first time Ainsley had ever painted something on canvas. He made the frame at school then stretched the canvas over the frame. He had to prime the canvas before painting.

"I found a picture in a book, photocopied and enlarged the picture before plotting it out on the canvas," Ainsley said. He followed the picture closely to get the desired details.

Ochs had a piece of plywood cut the right size for Davidson's design. "I was apprehensive at first," Davidson (center) said. "I had never done anything this large."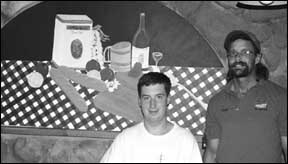 Davidson ad to set the plywood up on an easel in front of the art class, which was the only space large enough to work.
The students had never painted in front an audience before. "Classmates kept asking why we were painting the pictures," Ainsley said. "We told them we were being paid to paint the pictures."
Davidson said it took quite a while to do the painting, as he wanted to do it right. Ainsley used seven or eight layers of paint for the tower.
As they painted, Lura provided suggestions to make their paintings better.
"The still life turned out better than I expected," said Davidson, who was very happy with the end result. "I think the board was easier to paint on than the canvas." Davidson finished his picture in June.
Ochs is very pleased to have the paintings decorate Jimmy's Pizza. Ochs was glad to give recognition to the local artists.With all the attention of athletics, he feels the arts gets forgotten some-times.
In addition to paying Ainsley and Davidson, Ochs made a donation to the school art department in appreciation for Lura letting the boys work in her classroom.
Ainsley and Davidson said they enjoyed painting the pictures and would gladly try it again.
---