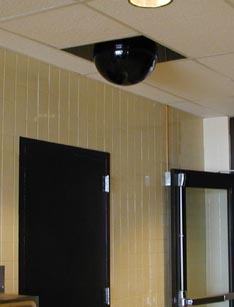 School district #741 has taken steps to ensure school safety in the past with locker locks, closed lunches, and even a sheriff working as part-time liasion officer in the school. This summer, the school district took an even bigger step towards increased security. Ten security cameras have been installed throughout the middle and high schools.

Although both high school principal John Janotta and middle school principal Deb Gillman report only minor problems in their schools, they feel this is another step to ensure school safety and solve behavior problems.

"The intent is to bring more security and safety for our students here at school," said Janotta.

Gillman agrees. "If there was a fight or theft, the investigation would be easier," she said. "The camera image is in color and very clear. It would be easier to identify the participants."

The cameras are set up near areas of high traffic, such as hallways, building entrances, and the cafeteria. There are two ways the cameras are mounted, both highly visible. One way the cameras are mounted is in large, smoked domes, set up near the school entrances. Another mounting style is a small, flat screen attached to the ceiling.

The digital cameras will record images 24 hours a day, seven days a week. Both principals can access any area of the school from their office computers and recall information for up to two weeks. The images won't be watched constantly, but would provide evidence should an incident occur.

Though they won't be a replacement for other security measures, the cameras allow closer monitoring of who is coming in and out of the building. The school already has teachers watching the hallways and requires all visitors to check in at the office and wear a visitor's badge.

National concern over school safety has made this additional safety measure possible. For the first time, the state has allowed a levy for safety and security funding, and these funds were used to install the cameras in Paynesville. Without the funding, the school would not be able to afford the new cameras, according to Janotta.

The total cost of the project was $16,289. Of that, $15,000 was covered by the new safety and security funding, while the remainder was paid for with other school district funds.

Janotta hopes that the safety and security funds will eventually be allotted yearly so the district can update their security measures.

"I think it is unfortunate that we feel the need to install cameras," said Gillman, "but we want our students and staff to feel safe in school."
---
Contact the author at paypress@lkdllink.net • Return to News Menu
Home | Marketplace | Community
---