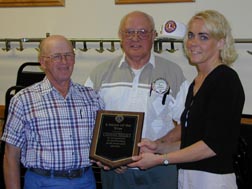 Brenda Stang juggles her career and family and still commits an extraordinary amount of time and energy to various community causes.

For her efforts, Stang was recently chosen as the Citizen of the Year by the Paynesville Lions Club.

Jerome Lieser(left) and Ron Iverson (center) presented Brenda Stang (far right) with the Citizen of the Year award.

Much of Stang's volunteer work is centered around protecting children and promoting health, two things Stang has close ties to. The mother of two, Stang works as a surgical technician and EMT at the Paynesville Area Health Care System.

"The self-gratification I get from helping people is more than I can explain to others," said Stang.

She has been instrumental in implementing a safety seat inspection program and bike safety programs at PAHCS.

Stang took an interest in safety seats when her son, now five, was a baby. She attended a free safety seat training program in Hennipen County and was surprised that there were problems with the way she was using her car seat. After that, she decided she could help others with her knowlege. "I felt it was something worthwhile that I could bring back to Paynesville," said Stang. Since then, she has organized several clinics in the area to educate the public about safety seats.

Stang also started a new safety seat program. Now, when newborns are discharged from the hospital, their safety seats are inspected and parents are educated about proper use. The child is not allowed to leave without a safety seat that passes inspection. PAHCS is the only hospital in Minnesota with a program of this type.

Last year, Stang began promoting bike helmet safety in the area. She attended a child safety convention in Texas and then organized a bike rodeo in Paynesville. At the rodeo, an officer spoke about bike safety. A bike inspection station and a helmet fitting station were set up, and helmets were sold at low cost in an effort to get more people to use them.

Stang is committed to these causes because she wants kids to be safe. As an EMT, she thinks the toughest calls are those involving accidents where children didn't have access to propor safety equipment like bike helmets or safety seats. "If there is something I can do to make a difference, I'll do it," said Stang. "If I get one less ambulance call, it's worth it."

Stang is also commits her time to volunteering as a member of the ski patrol at Powder Ridge in Kimball. Last year, she was secretary of the ski patrol board, while this year she serves as equipment manager.

Stang has been involved in the Relay for Life for the past four years as well. Relay for Life aims to raise funds for cancer research. She is a member of the Paynesville Community Club and also chaperones for youth events at church.

"The amount of effort that she puts into things is impressive," said Ron Iverson, chairmen of the Citizen of the Year committee that chose Stang.

Before she was selected, Stang was nominated by a Lions member. A committee then interviewed her and talked to her coworkers to better understand her as a person. "The people that I talked to were so ardent in their approval of her. When her coworkers feel that way, it makes a big impression on me," said Iverson.

To be chosen as Citizen of the Year, a person must be a resident of Paynesville and cannot be a Lion. Their volunteer efforts must go beyond their paid career.
---
Contact the author at paypress@lkdllink.net • Return to News Menu
Home | Marketplace | Community
---