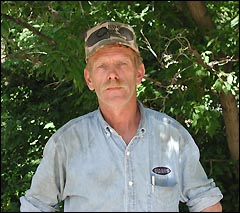 The heat from this summer weather pales in comparison to some of the conditions under which Jim Stanger has worked in his 22 years as a firefighter. He has fought fires amidst exploding aerosol cans while crawling blindly through smoke and watched an ordinary telephone receiver melt and stretch to over three feet long from the heat of a nearby fire.

Equally amazing as some of his stories are the changes he's seen in firefighting. Although there have been many improvements in the firefighting equipment, Stanger said one of the biggest changes has been the 9-1-1 dispatching.

"It used to be that if (someone) had a fire (they'd) dial 4600 and my red phone would ring continuously, and then we'd all meet at the station," said Stanger. "We'd ask who the neighbors were so we knew where the place was."

Now, with the newest Enhanced 9-1-1, a dispatcher from St. Cloud gives the firemen directions as they drive.

The amount of training required has changed drastically, too, said Stanger. "It used to be that you were just a 'go for' for a year before you were on the squad," he said. "I guess we had some training in operations, but there was no classroom training."

Now 80 hours of classroom training is required, in addition to a 20-hour refresher course every two years.

Stanger's father and grandfather were both firefighters. He was encouraged to join the squad by his father, John Stanger, and Milt Koshiol, who later became his official sponsors.

After graduating from Paynesville High School in 1969, Stanger enlisted in the Air Force. He spent two years in Thailand, where he configured bombs as a member of a munitions maintenance squadron. He then served in Europe for three years before returning home in 1975.

He married his wife, Val, in 1976, and spent a couple years welding on the Iron Range near Hibbing. He returned to Paynesville in 1978, the same year his father died. He joined the Paynesville Fire Department in 1980.

One of Stanger's funniest stories as a rookie firefighter was flaming with irony. As he was speeding on the way to a fire, the engine of his 1956 Ford tanker burst into flames. Because he had no dry extinguisher, he could only watch his fire truck burn. Fortunately, photographer Henry Southworth came to the rescue with a tiny dry extinguisher.

When Stanger first started he said there were more fires, which he attributes to the fact that everyone burned wood back then, and there were more chimney fires.

"I don't know if it's smoke detectors or better built houses, but there's less fires now, and that's good," said Stanger. However, Stanger also said the more sensitive detection technology triggers more false alarms.

As a reflection of the changes in training and the fewer fires, the type of calls firefighters respond to has also changed. "Now we go on just about every call the ambulance goes on," said Stanger.

The job is not always glorious. Some intersections now conjure memories of tragic accidents for Stanger.

Stanger has also used his skills with welding and metal to make repairs for the fire department. He and Cecil Louis "putz" a lot, he said.

When he's not busy working at his steel business, Stanger likes to hunt. He's been moose hunting in Canada as well as elk hunting out west. He is also a member of the Paynesville Sportsmen's Club.

In order to retire, a fireman must be on the squad for 20 years and be 50 years of age. Stanger says the main reason he has decided to retire from firefighting is the sharp increase in time devoted to mandatory meetings and training. "I still like going in and suiting up, though," he added.

Stanger doesn't regret the 22 years he spent as a firefighter. "I enjoyed it," said Stanger. "I know it sounds corny, but it's good to give back to the community and help people out. And I think all the other guys feel the same way."
---
Contact the author at paypress@lkdllink.net • Return to News Menu
Home | Marketplace | Community
---