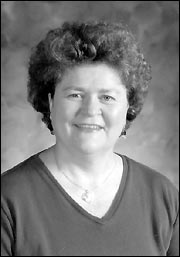 If tomorrow you woke up to discover a lump on your body, hopefully you would go to the doctor to find out what it was and where it came from. But if it was a cancerous growth, would you have any idea what to do, aside from panic?

Thirty years ago, discovering cancer would have been a virtual death sentence, but today over eight million people have survived cancer in the United States alone.

Barb Ingalsbe is a cancer survivor, and she is committed to help other cancer patients and their families deal with living with cancer.

In September 2001, Ingalsbe was notified that she was to be part of a new program that was started by the National Cancer Institute. This program, called Consumer Advocates in Research and Related Activities (CARRA), helps direct research by the National Cancer Institute.

One-third to one-half of the population will have cancer sometime in their life, said Ingalsbe. She wanted to be part of CARRA so she could help people to be better prepared than she was if and when they are diagnosed with cancer.

After writing a detailed application and essay, along with a letter of recommendation from Dr. Ray Lindeman, Ingalsbe was selected to serve a three-year term on this board. The program was established to bring the perspective of those affected by cancer to the on-going activities of the National Cancer Institute, which is the official federal government cancer research entity.

Her duties on this board are to help evaluate scientists' requests for research support as well as attempt to identify and support the most promising research in order to speed progress toward the eradication of cancer.

The National Cancer Institute sends research proposals to Ingalsbe through the mail on a regular basis. According to Ingalsbe, these proposals are usually 30-70 pages long. This makes for a lot of reading, but she feels it is a worthy cause.

Ingalsbe traveled to Washington, D.C., for meetings in January and May. During these two-day sessions, Ingalsbe met with a committee of various health care professionals to review proposed cancer research projects. Each member is typically assigned to write critiques on five research proposals and then discuss them with the rest of the committee.

She is glad to do all this work because she feels fortunate to have survived cancer herself.

When Ingalsbe discovered a lump in her right arm, in May 1998, she immediately went to her doctor, but she was told that it was likely a "harmless lipoma" and that she didn't need to have it removed.

After more than three months, the lump became larger, and she insisted that it be removed. The physician attempting to do so then realized the seriousness of the situation, she said. Ingalsbe was sent to the University of Minnesota Medical Center. She underwent a biopsy that showed she had a soft tissue sarcoma in her right arm.

After surgery, Ingalsbe underwent daily radiation treatment for seven weeks. She had to drive 100 miles to receive a 45-second dose of radiation and then had to drive 100 miles back home. Since then, she has had no recurrences.

Since joining CARRA, Ingalsbe has become quite informed and knowledgeable about cancer. Ingalsbe firmly believes that people should become educated about cancer, because it can strike anybody at any time, and knowing how to deal with it just in case will be a big help.

There is a common misbelief that cancer is strictly hereditary, but that is simply not true, Ingalsbe said. She had no history of cancer on either side of her family, making it a complete surprise to her.

"I believe the Internet has incredible opportunities for patients to gain information and knowledge about their specific cancer," said Ingalsbe. "This helps the patients communicate better with their doctors so patients themselves can be part of the treatment team."

She warns, however, that a lot of false information is on the Internet as well, and people need to beware. A website with green miracle pills won't cure you, she feels; they will just take your money.

Later this month, Ingalsbe will attend a special meeting the National Cancer Institute is holding for three days called the Cancer Health Disparities Summit. This special meeting is to discuss cancer patients who live in rural communities, as well as minority cancer patients, who have difficulty reaching cancer facilities or affording cancer treatment.

Ingalsbe is a special education teacher in the Eden Valley-Watkins School District and lives on the south side of Lake Koronis with her husband, Dave, and their three children: Amber, Scott, and Adam.
---
Contact the author at paypress@lkdllink.net • Return to News Menu
Home | Marketplace | Community
---